Father's Day Wrestling Memories – Defining Moments Review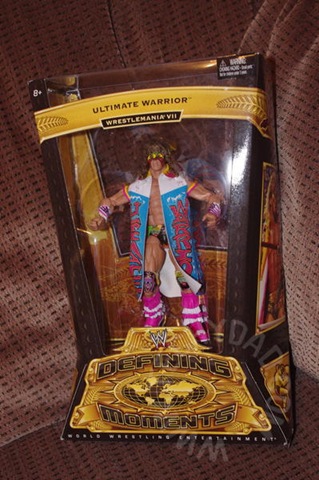 I have many good memories of my father growing up.  One of the big ones involved wrestling.  For a time, we were both big WWE (then called the WWF) fans.  We would watch Hulk Hogan, Randy "Macho Man" Savage, George "The Animal" Steel, Andre the Giant and many others tangle and try to be the best there was.  We even went, on more than one occasion, to WWF wrestling matches when they were close enough.  One of my best memories of these was the time that my father (through connections of his) got box suite tickets.  We got to sit in nice, comfortable chairs and watch the match through either a glass window, looking down on the arena, or via a television screen.  To my young mind, it was like sampling the ultimate in luxury.
I'll admit that I thought that wrestling was real for much longer than I should have.  Perhaps I was holding on to the fantasy to preserve a common interest my father and I held.  Or perhaps I was just very naive.  (Probably a bit of both.)  Either way, my interest in wrestling faded.
Although I'm not a wrestling fan currently, I still have fond memories of wrestling.  When I heard of the WWE Defining Moments figures (ARP: $22.99), I was interested in just how realistic the figures would be.  There are many different figures including "Macho Man" Randy Savage (from WrestleMania® VII), Ultimate Warrior (also from WrestleMania® VII), Shawn Michaels (The 25th Anniversary of WrestleMania®), and The Rock.  I received Macho Man and Ultimate Warrior to review.
The boxes themselves were impressive.  They showed off the figures quite nicely and had detailed description of the match they were from on the back.  I'll admit that I considered leaving them in the box for display.  In the end, though, I figured that I couldn't review them properly if I didn't remove them from the packaging.  Besides, NHL and JSL were chomping at the bit to try them out.  (I did wind up saving the description on the back of the box.)
Removing them from the packaging, I was pleasantly surprised to find out that they were extremely detailed.  Ultimate Warrior's knee pads and tights, for example, feature images of him and his opponent (Macho Man) from their match in WrestleMania® VII.  The figures are also highly articulate.  Knees bend, ankles turn, midsections move and heads turn.
My boys, although not wrestling fans (JSL refers to Ultimate Warrior as "the cowboy"), immediately claimed the figures as their own and had some mock-fighting sessions with them.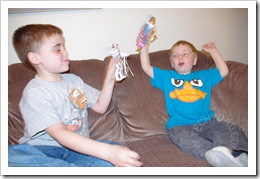 Of course, the details on these figures is impressive enough that they could be displayed prominently in the display case of any wrestling fan.
Disclaimer: I received the two figures mentioned above to review.  All opinions mentioned above are my own.