Birthday Treats and Green Tongues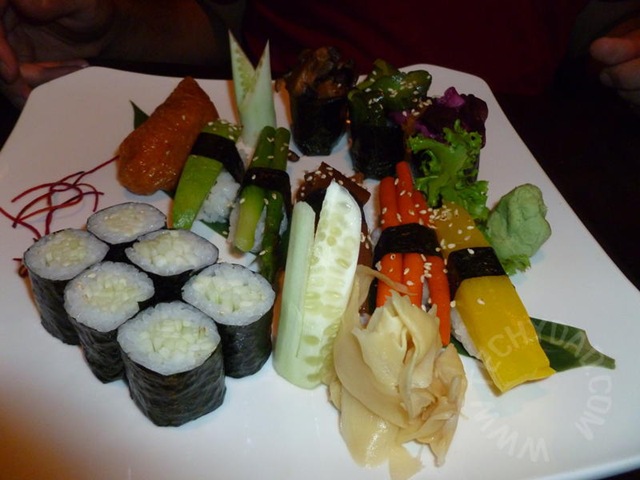 Yesterday, as is our birthday tradition, we went out to dinner.  The boys wanted to have dinner with B's parents, so B and I went to Mr. Fuji.  B has already featured the meal on her blog, but I had to feature some of the items in depth.
First up was vegetable sushi and a cucumber roll.  When I ordered this, I was expecting a few rolls with a mix of chopped veggies inside.  This is what I got instead.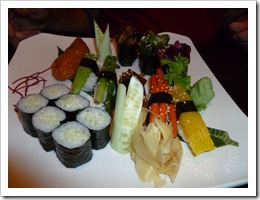 You really need to click the photo and look at the large version to truly appreciate this.  It was quite a pleasant surprise over my admittedly bland mental picture.  The colors of all of the vegetables popped nicely.  There were yellow peppers, orange carrots, green asparagus and more.  The textures were nicely varied as well.  From the crunch of the carrots and peppers to the creaminess of the avocado and the chewiness of the mushrooms.  This was an amazing dish all around.
I had a birthday cookie cake awaiting me at home so normally I wouldn't have ordered dessert.  However, I had a birthday coupon for a free tempura ice cream so I decided to get it.  I'm so glad I did.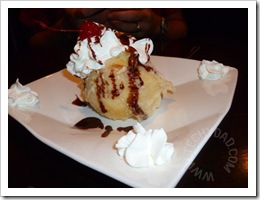 I wish we got a good photo of the inside of this, but we were too busy eating it.  At its core, this dessert is a large, hard scoop of vanilla ice cream.  Right outside of that was a huge surprise: Cake!  In retrospect, it makes sense.  You need something to protect the ice cream from the hot frying oil.  Of course, outside of the hard, cold ice cream and the soft cake was the warm, crunchy tempura batter.  It was all topped sundae style with chocolate sauce, whipped cream and a cherry.  Considering that this all would normally cost $4 (and that they also have a Tempura Cheesecake), I think I'll be bringing the boys here for dessert one day!
After a brief walk around to digest our food, we went back to B's parents' house.  There, we had a cookie cake.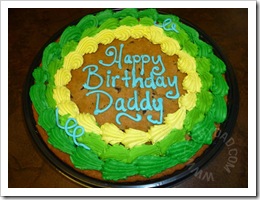 I've got to admit to a fondness for cookie cakes.  Regular cake is ok and cheesecake is great, but I really love a good chocolate chip cookie.  Make it a giant chocolate chip cookie with frosting and YUM!
The only downside?  Green fingers and tongues.
Of course, photographer-me had to try a macro shot of my boys' tongues.
And, with that, this post has gone from drool-inducing deliciousness to disgusting!