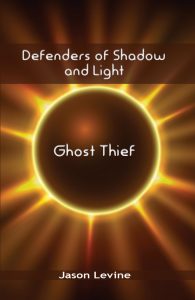 42. Fans of Hitchhiker's Guide To The Galaxy know this as the answer to Life, the Universe, and Everything. Well, as of tomorrow, it's also the answer to "Hold Old Is Jason?" Yes, tomorrow is my birthday. I'm leaving 41 behind and adding yet another year to my age. Still, 41 was a pretty good year. After all, that's when I finally published my first novel – Ghost Thief. For those who might have forgotten, this is a science fiction tale of a thief who gains mysterious abilities and the adventures he has. Here's a longer description:
Murray Gastev is anything but ordinary. He's a thief for hire and a good one at that. He completes his latest job but ends up with far more than just the cash he expected to receive. He finds he now has the ability to pass through walls and float. There are just two small problems: He can't breathe while he 'ghosts' and he can't control where he floats to. With the help of some new friends, Murray might learn to control his powers and may even pull off his biggest heist yet. If he doesn't end up being sliced to ribbons first.
Usually, when you release a novel, you make a big push to spread the word. Unfortunately, this being my first novel and me being horrible at self-promotion, sales have been stagnant. Well, there's another reason also. You see, Ghost Thief is going to be a trilogy that also leaves room for short stories within the same universe. I started writing two of those short stories and suddenly realized that this was actually the beginnings of Book 2. That beginning expanded and has blossomed into over 56,000 words. My first book was only eight thousand words longer and this one isn't even close to finished yet. (Though part of me hopes to hit 100,000 words, I'm thinking it will more realistically end at around 80,000 words.)
Given my upcoming birthday, I wanted to do something special. I decided to cut the price of the Kindle version of my book to 42 cents to celebrate my 42nd birthday. Unfortunately, it turns out you can't do this. When you set a sale price, it needs to be in $x.99 increments. (Meaning $0.99, $1.99, etc.) So I've done the next best thing. Instead of my book being 42 cents for one day, it'll be $0.99 (the lowest I could make it) for 42 hours. Yes, you have nearly two whole days to grab my book for just under a dollar. This starts at midnight tonight Eastern Time and extends to 6pm Eastern Time on August 4th. After that, the price will rise to $1.99 (still a 60% saving) until 3am on August 9th. (There's no special significance to that day/time. That was just the longest I could make the sale run for.)
So set a reminder to go to Amazon.com tomorrow and pick up a Kindle copy of my book. The sequel is coming along nicely and – with luck – will be out later this year or early next year. Finally, if you're not sure if the book is for you, you can download the first three chapters completely free. If you do buy my book and read it, let me know what you think. You can message me on Twitter, Facebook, or via my contact form.
Happy reading, everyone!