Happy Birthday To My Teenage Son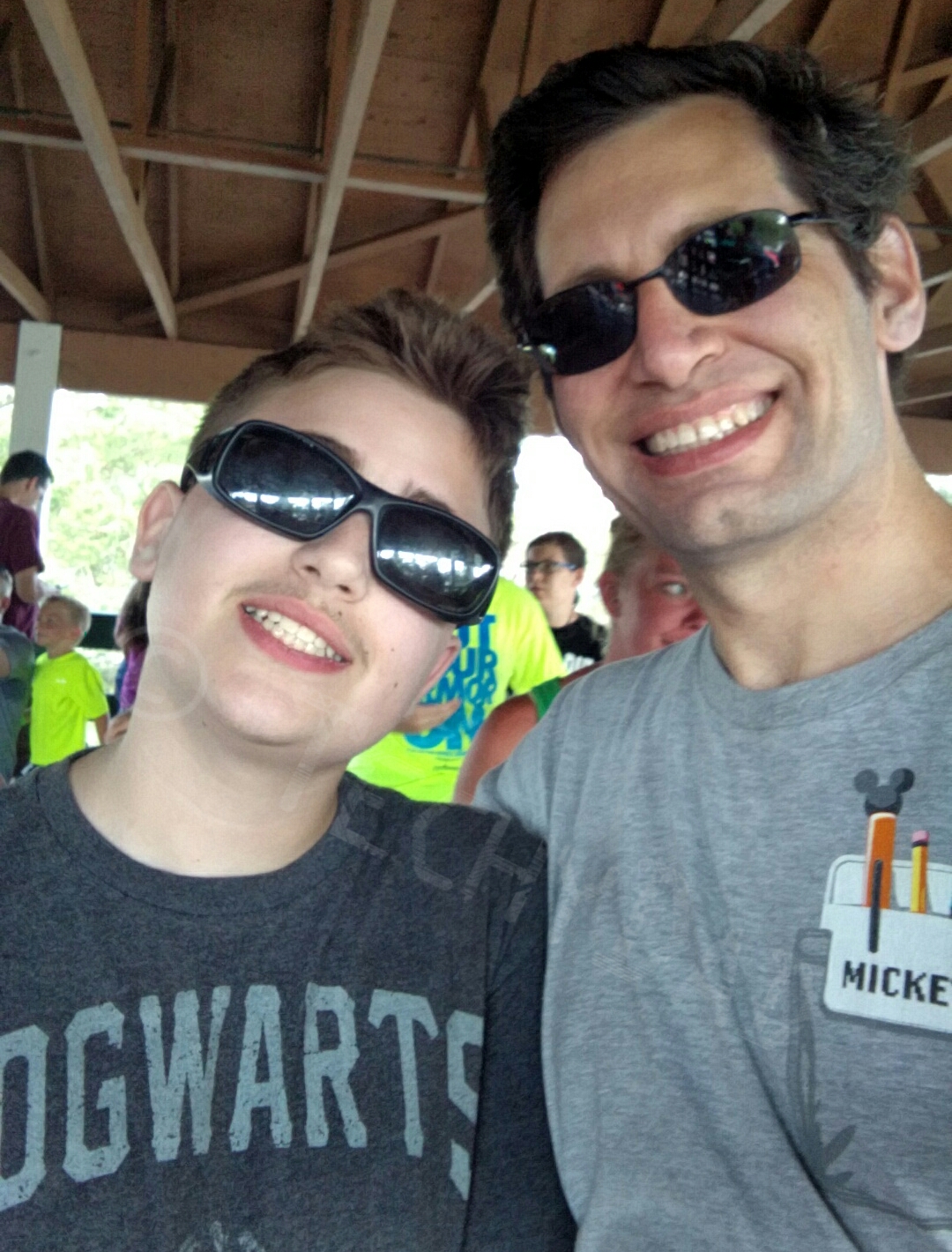 Today is NHL's birthday. It's not just any birthday, though. It's his 13th birthday. This means that NHL is officially a teenager. How did this happen? It seems like only yesterday that little NHL came home from the hospital with us.
A year later we celebrated his first birthday and he discovered the joys of cake. And that the messier the food, the better.
As the years progressed, NHL grew bigger and bigger. Eventually, he started school and discovered the joys of learning. NHL loved math and would work it into every project that he could. We would get lovely artwork sent home from school with "1 + 1 = 2" painted in the middle because NHL always wanted to show off his math skills. He loved school and loved playing. He was getting bigger and more expressive. We'd constantly be in awe over what a bright, sweet, and cute kid he was turning into.
Years later, after many attempts to figure out what was going on with NHL, we received an Asperger's Syndrome diagnosis. This changed both NHL's world and my own as I quickly realized that I'm an Aspie as well. Suddenly, all of the "difficulties" that NHL was facing in school, at home, and out in the world made more sense and we found the proper tools to help equip him to tackle challenges that neurotypical kids (and adults) saw as just mundane day-to-day events. It seemed like every hurdle we climbed over was replaced by another, bigger one. Through it all, NHL kept up his love of learning.
This only increased once he hit middle school. I'll be honest, we were terrified of the prospect of middle school. The chaotic hallways, overwhelming workload, and rotating mix of teachers/classmates seemed like they would conspire to crush our child. We pictured him having a meltdown in the crowded hallways as he struggled to open his locker while being buffeted by kids rushing to his class and the bell threatening to ring any second. Yes, he would have a one-on-one aide, but would the aide know how to support our child while still letting him handle enough on his own?
In hindsight, we needn't have worried. The aide was great. He and NHL hit it off immediately and got along great. And those class-to-class transitions we feared? It turned out that he thrived on them. NHL loves schedules. He wants to know just what is happening and when. In elementary school, his teacher could make math run long if need be and postpone English. This would cause NHL to flip out over the schedule being broken. (Being able to roll with schedule changes is one of the many things that neurotypical people take for granted.) In middle school, though, once the bell rang, math was over. The math teacher couldn't declare that the class was running over for 10 more minutes because all of the kids had to get to their next class.
In his first semester of middle school, NHL got silver honor roll, having gotten one B on a report card otherwise filled with A's. After his honor roll ceremony, he told us that next semester he'd get gold. We reassured him that what was important was that he did his best. He insisted that he'd get gold next time. And he did. He worked harder, raised his grade to all A's, and got gold honor roll that very next semester. And the semester after that. In fact, in the two years he's been in middle school, he's only had two B's. The rest of his report cards were straight A's.
When he's not acing tests with a GPA that makes me both jealous (I only got one straight A semester in school) and proud, NHL loves watching TV and playing video games. He's a total binge watcher. He'll find a show he likes on Netflix or Hulu and will watch every available episode (usually while his brother complains that NHL is hogging the remote) until he's an expert on everything there is to know about the show. He'll also play and ace video game after video game. When it's just us in the car, he loves telling me – in excruciatingly exacting details – just what is going on in the video games he's playing. I'll admit to only half-listening most times (in my defense, I'm driving while listening and the safe operation of the vehicle does take precedence), but I love how excited he gets over his games. He's a geek and is proud of it.
Speaking of being a geek, NHL also loves playing Munchkin and other games with me. Unfortunately, time doesn't allow for much in the way of game-play recently, but we still get a game in every so often and I love seeing his smile as he beats me yet again. (I never let him win. He's just good at the game.)
Now, NHL is a teenager. In one month, he'll be celebrating his Bar Mitzvah. I couldn't be prouder of NHL. He's smart, kind, and unashamed of being a geek. In so many ways, he's my mini-me. He's turning into such a wonderful young man, but he'll always be my sweet baby.
Happy birthday, NHL!