Review: Hot Wheels Nitro Speeders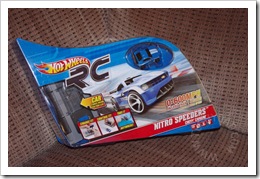 The kids love cars.  They've got a whole plastic carton devoted to various Matchbox, Hot Wheels and other assorted cars.  Up until now, though, their RC experience has been a bit limited.  We've had a few RC-type toys meant for kids (a Lightning McQueen car and a Buzz Lightyear spaceship), but they were bulky and never quite worked right.  These toys were soon pushed aside in favor of others.
When the Hot Wheels Nitro Speeders box arrived, I was excited to (re)introduce them to the world of RC cars.  The kids, however, were even more excited than I was.  They barely tolerated me taking photos of the box and cars before I put batteries in the controller/case.
I was stuck by how small these cars were.  You can see, in the comparison photo above, that they are just bigger than a quarter.  I'd worry about the cars getting lost, but, luckily, Hot Wheels has addressed this.  The controller doubles as a case.
Even better, the case triples as a charger.  The car itself contains a non-replaceable Lithium-Ion battery, but the case runs off of 4 AA batteries.  Connect the car to the case via a cable (inside the case) and the car can quickly be charged.  I didn't time the charging, but it was definitely ready in under an hour.
All of this wouldn't matter, though, if the cars weren't fun.  Luckily, they are plenty of fun.  Again, my kids put up with me clearing the hallway of any obstacles (and closing doors so the cars wouldn't scoot under beds).  Then, they not-so-patiently put up with me videoing myself playing with the car.
Once this short video was done, I let them have at them.  Notice the two cars.  B got selected for this review as well.  It wound up being a good thing because otherwise the boys would have fought over the controller.
Of course, still photos of smiling faces and racing cars is one thing.  It's quite another to hear their reactions and laughter.
The box says that it is for ages 8 and up, but JSL (age 4) had no problem operating the car.  I'll admit that I couldn't quite get the car to go where I wanted it to go, but that could be the fault of my inexperience with RC cars more than the fault of the controller.  Even without pinpoint accuracy, I had fun making the car race, turn, and spin out.  This is definitely a toy that I'd recommend for kids or even grown-ups.
Giveaway
You can win a Hot Wheels Nitro Speeders RC car.  To enter, simply leave a comment below answering this question: What kind of cars do your kids like playing with?
You can also earn bonus entries by doing any (or all) of the following items. Just be sure to leave a separate comment for each item that you complete.  (Don't just leave one comment listing everything you did.)
Follow @TechyDad on Twitter. (1 bonus entry)
Follow Hot Wheels on Twitter. (1 bonus entry)
Tweet about the giveaway on Twitter. Be sure to include @TechyDad, @Hot_Wheels and a link to this post in the Tweet. (1 bonus entry per day) For example: On your marks, get set, RC race with @TechyDad and @Hot_Wheels Nitro Speeders #Giveaway http://bit.ly/n5848v
Subscribe to my RSS feed or let me know if you already are. (1 bonus entry)
Leave a comment on any of my non-giveaway posts from August/September. Leave a comment here letting me know which post you commented on. (1 bonus entry per comment, maximum 3 entries)
Enter B's Hot Wheels Nitro Speeders giveaway.  Leave a comment here letting me know that you've entered. (1 bonus entry)
Write a post on your blog linking to this giveaway. Leave 3 comments about this to get credit for all of your extra entries. (3 bonus entries)
To enter, please follow the rules above within the comment section. Contest starts today, August 25th and ends at Noon EST on September 12th, 2011. You do not have to be a blogger to enter, but must leave a valid e-mail address for me to contact you for mailing address once the giveaway is over. I will select the winner using random.org and contact you via e-mail. You will have 48 hours to claim the prize. If there is no response, another winner will be selected. Open to U.S. residents only.
Disclaimer: I wrote this review while participating in a campaign by MomSelect.  I received a Hot Wheels Nitro Speeder to review.  All opinions above are my own.