The Other Woman In Our Bed
There's another woman in our lives and her name is Kimberly.  We met Kimberly just eleven short days ago and she's already turned our routine upside down.  Before Kimberly, B used to knit or browse on her computer at night until she fell asleep. Lately, when it comes time for bed, B snuggles under the covers with Kimberly until she (B, that is) falls asleep.  I will find them there laying side by side and I will need to move Kimberly out of the way before I can get into bed.  I get a bit of time with Kimberly also, but mostly B has claimed her for herself.
In many ways, I just can't compete with Kimberly.  She's much thinner than I am.  Than I'll ever be.  And the stories she tells!  I have about ten stories I can tell.  Ask me to tell more and I begin to repeat myself.  Kimberly, last time I counted, had over fifty.  She's pretty decent at games too.
So who is this invader of our home and our bed?  What does she look like?  Here's a photo: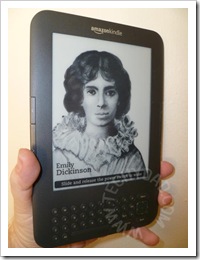 This, ladies and gentlemen, is Kimberly Kindle.
See how thin she is?  We've already loaded her up with 50 eBooks and a few games like Jigsaw Words.
But why name an electronic device?  B started it by saying she wanted to come up with a name for our video camera.  I agreed that it needed a female's name.  I had my reasoning.  (Let's just say that I argued that the cheap, Flip-style camera we also had needed a male name.)
Meanwhile, I had won a Kindle Keyboard and we both took to it.  Except B seemed to claim it as her own.  With the video camera getting a name, it seemed only natural to give the Kindle one as well.  And as I'm a fan of alliteration, Kimberly seemed to fit perfectly.
And that's how Kimberly Kindle invaded our lives.  Maybe tonight, I'll change things up by laying down on the couch with Kimberly and having some fun… reading Peter and Wendy, that is!
Do you have a Kimberly Kindle (or perhaps her cousin Nancy Nook) in your life?