Cooking with TechyDad: Spaghetti Squash Sauté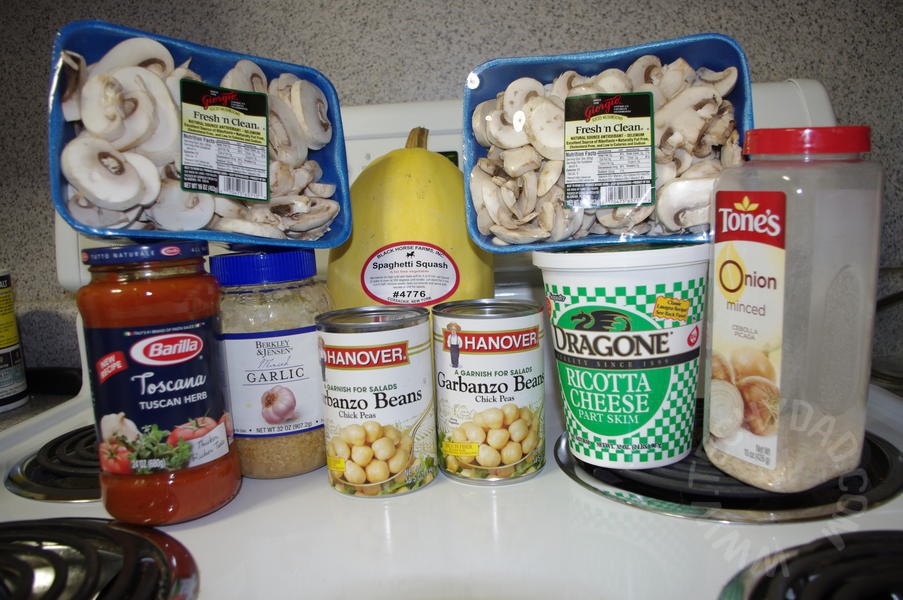 I love cooking squash.  It's pretty easy to make and goes in a variety of dishes.  Spaghetti squash has a bonus, though.  It looks like pasta after it is cooked!  This means you can make pasta-like dishes with it.
For this recipe, you'll need a spaghetti squash, some sliced mushrooms, onions, garlic, jarred (or homemade) spaghetti sauce, chickpeas, and ricotta cheese.
First, we'll slice the squash in half and remove the seeds and "goo" (that's a scientific cooking term) in the middle.  Don't toss those seeds, though.  You can bake them later for a tasty snack.
Place the squash halves face down on a greased cookie sheet and bake for about 30 – 40 minutes (depending on how heavy your squash is).
While the squash bakes, sauté some onions and garlic.  Then, add some mushrooms and cook them down.
When the squash is done, use a fork to pull the flesh off of the shell.  The spaghetti squash will string out just like… well, spaghetti.  Put this in a big pan.
Mix the squash with the mushrooms, chickpeas, sauce and ricotta cheese.
Then, you simply serve and enjoy.
I've made this dish quite a few times.  It's relatively quick, easy and very healthy.  It also makes quite a bit.  One spaghetti squash can last make enough to last us for two or three dinners.