Review: A Magical Time with Melissa and Doug's Deluxe Magic Set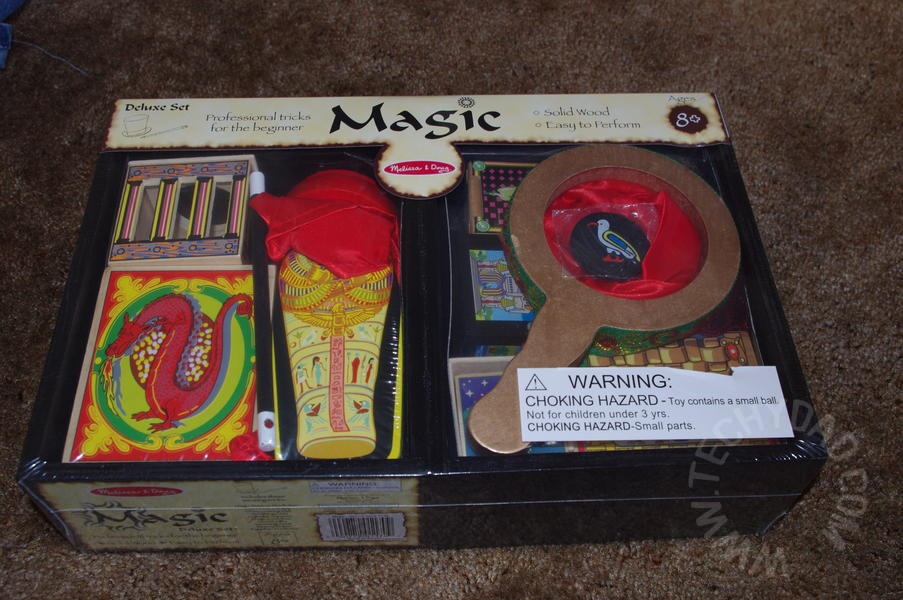 Ever since NHL, JSL and B saw a magician during the summer, NHL has been intrigued by magic.  He wanted to try doing magic himself right away.  Of course, he didn't quite understand how to do magic.  He decided he really wanted a magic kit.  A cheap ($1) magic kit from Michaels didn't seem to quench NHL's thirst.  He wanted more.
Luckily, when Uncle I, Aunt M, Cousin S, and Cousin B came to visit, we exchanged Chanukah presents early.  Guess what NHL got.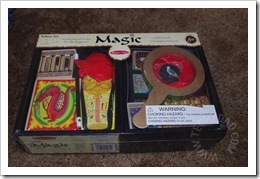 Yes, that is a Melissa and Doug magic set.  NHL begged to open it up.  At first, I was reluctant.  After all, Cousin B is only one and a half and there were some small pieces.  I soon relented, though.  Even I was intrigued by what was in the package.
I opened the packaging up and took out a few of the tricks.  NHL excitedly looked at each and every piece, wondering what they did.  We were having difficulty figuring it all out until I got to the very last (and arguably most important) piece: the instruction manual.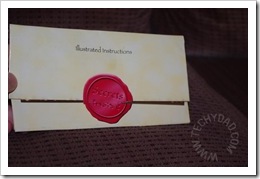 As you can see, it was sealed shut to prevent any non-magicians from learning the valuable secrets contained within.  I got to work looking over the magic tricks.  Finally, I found an easy one.  The disappearing scarves trick.
How did I do it?  Well, a magician never reveals his secrets.
NHL also quickly mastered the disappearing/reappearing ball trick and the magic number prediction trick.
All in all, there are about 10 tricks for him to practice.  The entire set comes in a magic box that is used in one of the tricks and doubles as a storage case.
The pieces feel very sturdy and are of very high quality (as Melissa and Doug products have a reputation for being).  About my only gripe would be the lack of some kind of latch on the magic box to prevent it from opening once closed.  Without a closing mechanism, the filled, closed box easily opens, spilling its contents all over.
Still, this is a minor complaint in an otherwise wonderful magic set.  I'm sure that NHL will have plenty of fun playing with it and learning the tricks (and, let's face it, so will I).
Disclaimer: NHL got this toy as a gift from relatives.  We weren't compensated for this review in any way.  I just wanted to share what I thought about it.