Review: Family Game Night (Wii)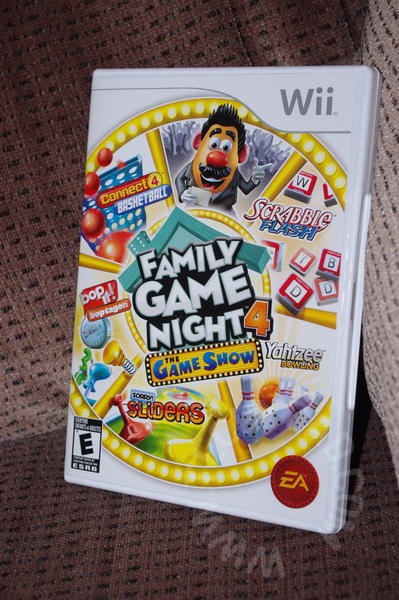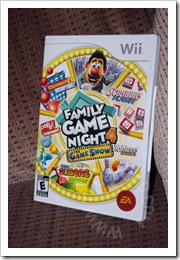 Soon after The Hub network premiered here, NHL discovered Family Game Night.  This game show showed two families competing for cash and other prizes by playing modified versions of classic games such as Scrabble, Connect Four, Yatzee and Sorry.  NHL quickly grew to love the show and insisted that we record each and every new episode.  He would excitedly root for a favorite team and developed favorite games.
Meanwhile, NHL loved playing games on the Wii including one of the Family Game Night series that we had purchased.  He really loved the idea of taking a board game and playing it in video game format.
Combine the two and you get Family Game Night 4: The Game Show.
There are two modes to this game.  The first is a one or two player version of the Family Game Night TV game show complete with announcer Todd Newton assisted by Mr. Potato Head.  In this version, players compete in versions of the Family Game Night TV show's mini-games.  Winning players get Monopoly cash cards.  At the end of the game, you see just how much those cards were worth.  The player with the most Monopoly cash wins.
In the other mode, players can play the individual mini-games either against another player or against the computer.  There are also slightly altered versions of the games.  For example, Sorry Sliders becomes Sumo Sliders.  Instead of merely sliding your Sorry sliders shuffleboard style and worrying about other sliders, you also need to worry about some big (aka Sumo) non-player sliders that are already on the board.  Just to keep things interesting, you can win trophies for completing various activities (like getting 4 in a row in Connect 4 Basketball in only 4 shots).
Though they were a bit much for JSL (age 4), NHL (age 8) and I loved playing both the game show and individual games.  This is definitely a game that we will be playing over and over again.
Disclaimer: I received a copy of Family Game Night for the Wii from EA Play.  No other compensation was given and no review expected.  The opinions stated above are my own.