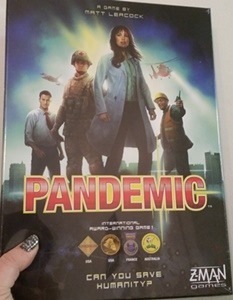 It's no secret that I love playing tabletop games. However, at times, my oldest has a tough time with them. When dealing with Autism, social skills can be tricky to navigate. Simple things like winning a game gracefully or accepting when you lose can spiral out of control.
During the second Passover Seder, a family member brought Pandemic for us to play. I had heard of it before but never really to look closely at it much less play it. When we realized it was a cooperative game, my boys and I got excited. Instead of trying to best each other to the goal, we would be working together to win the game.
Unfortunately, our first game got cut short by the Seder, but we loved that small taste so much that we ordered it a few days later.
In Pandemic, each player controls a medical professional working to stop four plagues afflicting the world. You collect city cards to come up with a cure while trying to battle the diseases back. As the game progresses, more cities become infected, some so much that they infect neighboring cities. If this happens too many times before you find all four cures, the game is over and you lose.
Each player's character has a special trait. The scientist can find a cure with four city cards instead of five. The researcher can pass city cards to other players without needing to be in that particular city. The medic can cure all of the disease in a city in one move before a cure is found. Only by working together can you find the cures before time runs out.
So far, we've played the game quite a few times. We've won every time, but some of those games were pretty close. We were also playing at the easiest level. We might ramp it up next time.
I'd recommend this game for anyone looking to work together as a family. The game says it is for two to four players age 8 and up. My eight year old had little trouble picking up the rules. Younger kids can play but might need help understanding what moves they can make. Since Pandemic is such a great cooperative game, I could even see it being used as a casual office team building tool.
Pandemic is a great game that encourages cooperation. Instead of fostering an "everyone for themselves" attitude, it encourages players to work together towards a common goal. This can lead to not only a fun time, but some great life lessons be they to a child learning appropriate social actions or coworkers trying to pool their strengths to succeed.