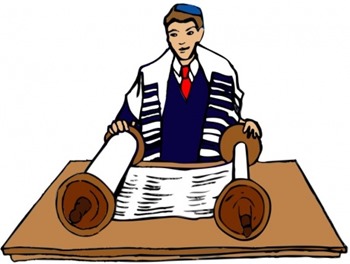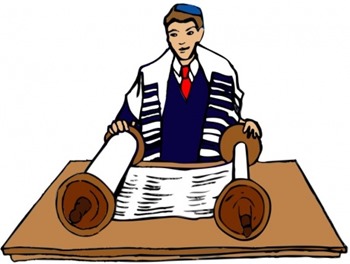 During NHL's Bar Mitzvah, he gave a speech, called a Dvar Torah, about the Torah portion that had just been read. I asked him for permission to reprint it here and he agreed. So, without further ado, here is NHL's Dvar Torah:
---
In my portion, it says:
Remember what Amalek did to you on your journey, after you left Egypt – how, undeterred by fear of God, he surprised you on the march, when you were famished and weary, and cut down all the stragglers in your rear. Therefore, when the lord your God grants you safety from all of your enemies around you, in the land that the Lord your God is giving you as a heredity portion, you shall blot out the memory of Amalek from under heaven. Do not forget!
Why Amalek? Why do we need to blot out the memory of Amalek? Why not other groups who have persecuted Jewish people throughout history? For example, why not the Egyptians who enslaved the Israelites for hundreds of years? Or other groups who attacked the Israelites on their journey through the wilderness? Why is Amalek singled out for this treatment?
When Amalek attacked, they did not attack the Israelites' military. They did not single out the strong fighters or other military targets. Instead, they went after the weak and defenseless people straggling behind the group. Other groups attacked directly instead of aiming for innocent civilians.
The Torah says that we should blot out the memory of Amalek. However, the Torah also says not to forget. How can we do both? If we blot out their memory, doesn't that mean they would be forgotten? And if we do not forget, doesn't that mean that we have not blotted out their memory? While it is true that blotting out their memory means eliminating them completely as a people, we also must remember what they did because other people can do what Amalek did.
There is a famous saying by Spanish-American philosopher and poet George Santayana. "Those who cannot remember the past are condemned to repeat it." Sadly, Amalek was not unique. There have been many other events in history that mirrored Amalek's actions. Haman tried to kill all the Jews in the Persian Empire by using power over them from King Achashverosh. In the 1930s and 1940s, Hitler tried to kill many different people, including the Jews, using Germany's military might. During the Sudan civil war of 1985, Salva Dut was around 11 years old when he was fleeing to Kenya though the Akobo Dessert. Looters from another tribe stole everything that the people traveling with Salva had including their clothes, food, and water. Then, they killed Salva's uncle – the only family Salva had with him – right in front of him.
So why is it so important to remember? Won't these tragedies still occur even if we recall each and every one of them? Do we have any power to stop them or are they inevitable? The Irish statesman and philosopher Edmund Burke said "The only thing necessary for the triumph of evil is for good men to do nothing." We can make a difference if we act and it is easier to act when we remember what has happened before.
Mordechai and Esther led the charge to stop Haman. Their actions stopped Haman's plot and saved the lives of many Jews. During the Holocaust, Oskar Schindler helped save 1,200 Jews. Schindler ran a factory that employed many Jews. When the Jewish people were being sent off to the Concentration Camps, Schindler bribed German officials to protect his employees and their families. This was very risky for him to do. If Schindler did nothing, he would have been just fine because he was a member of the Nazi Party. If Schindler was caught, he would have been killed for defying the Nazis. By the end of the war, his employees and their families were safe. Schindler had spent his entire fortune and had to rely on support from other people including the Jews he had saved. Schindler was named Righteous Among the Nations and was buried on Mount Zion in Jerusalem. He is the only member of the Nazi Party to receive this honor.
Another example of people standing up for what it right no matter the risk was the Underground Railroad during the nineteenth century. The members of the underground railroad helped escaped slaves get to Canada where they could be free. This was very illegal at the time. Armed bounty hunters and federal law enforcement agents were hunting the escaped slaves. If the escapees were caught, they would be taken back into slavery and anyone found assisting them would have gotten in huge trouble. Despite this risk, the people running the Underground Railroad still hid, fed, and provided shelter for the escaped slaves.
So, does this edict to not forget only apply to Jews? After all, some might say we should only look after our own people. What business is it of ours if other people suffer? Pastor Martin Niemöller was an outspoken opponent of Adolf Hitler. He spent 7 years in Nazi concentration camps and is most remembered for the following quote:
First they came for the Socialists, and I did not speak out—
Because I was not a Socialist.

Then they came for the Trade Unionists, and I did not speak out—
Because I was not a Trade Unionist.

Then they came for the Jews, and I did not speak out—
Because I was not a Jew.

Then they came for me—and there was no one left to speak for me.
His point was that if you do not stick up for others when they need help, there will not be enough people to speak for you when you require assistance. Therefore, we should concern ourselves with the plights of others, even when it has no impact on our day to day lives.
So, what kinds of situations does this apply to? It is easy to say "I will definitely stand up if another Holocaust happens." But do we? Time after time we turn the other way when groups of people are persecuted. We do nothing because we believe it has nothing to do with us or we convince ourselves that we have too many problems of our own to deal with. Sometimes we remark about how awful the situation is and how somebody should do something, after which we do nothing and just continue with our day to day lives. It can be very easy to say you will act, but hard to break out of your average routine.
The bigger tragedies can seem overwhelming, but what about day to day injustices? Surely those are more manageable. And yet we still find it all too easy to look the other way if we see someone who is being bullied or someone whose life has taken a bad turn. For example, someone that is homeless and is asking for money to feed their family. While it may be easy to walk away and think that this has nothing to do with you, how would you feel if you were the one being bullied or that was homeless. Wouldn't you want people to help you?
Fighting against indifference and taking action can be very difficult. Oftentimes the urge to do nothing is overpowering. However, this is all the more reason why we need to heed the Torah's words and do not forget. So the next time you come upon someone who needs help, don't let Amalek win. Do everything in your power to help those in need.
NOTE: The Bar Mitzvah Torah Reader image above is copyright Bitsela, used courtesy of free-bitsela.com.