So Proud Of My Bar Mitzvah Man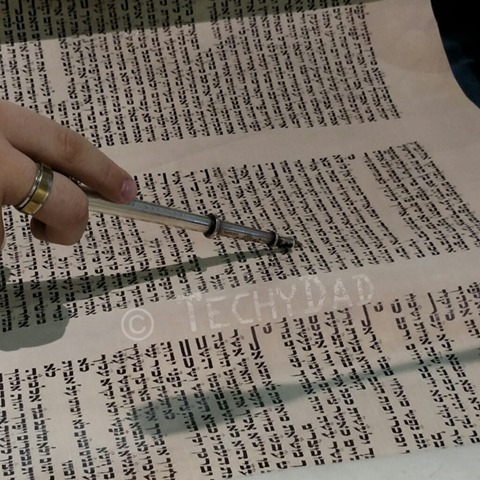 On Saturday, NHL was called to the Torah for the first time. This rite of passage welcomes him as a man in the eyes of Judaism. I'm still beaming with pride.
To clarify, all that is required is that you get called up to the Torah, say an opening blessing and a closing blessing and you're done. That's the most basic requirement. There are traditions that the Bar Mitzvah boy (or Bat Mitzvah girl) read from the Torah and sing a Haftorah portion (an excerpt from one of the books of the prophets that is linked in some way to the Torah portion), but this doesn't need to be done at all.
So what did NHL do? First, he led the service as we took out the Torah. Then, he read from the Torah (a long passage, might I add) as B and I were called up. Next, came his big moment. He was called up for the first time as a member of the Jewish community. He sang the opening prayers, read from the Torah again, and then sang the closing prayers. After this, he gave a speech about his Torah portion (a Dvar Torah) before reading his Haftorah.
As he walked across the stage to speak with the rabbi, we got to pelt NHL with candy as a traditional wish for the target to have a sweet life. It's also a favorite among kids who then get to storm the front to gather candy. NHL was lucky that we chose the soft Sunkist Fruit Gems. My parents packed projectiles that included Hershey's Kisses. Those things sting – or at least would have if I hadn't been smart enough to duck behind the podium right after finishing my Haftorah. Back to NHL, though, I am happy to report that I hit him with my first throw.
Moving on, we said the traditional parental blessing over NHL and sang a quick song thanking God for letting us see this wonderful day. NHL sang the Ashrei (another prayer) before we put the Torah away and, later on, sang some closing prayers with his brother and cousins.
So how did he do?
From his practice sessions, I was confident that NHL knew his stuff. I was sure that he was ready, albeit nervous – a perfectly normal reaction to such a momentous occasion. Still, as NHL often does, he blew away my expectations. He nailed all of the Hebrew readings and many people commented on how great his speech was. More than one specifically said that it greatly moved them. I will admit that I helped him craft the speech, but I was more a guiding force – helping direct him on the best way to make his point. The content and especially the delivery was all NHL. (NHL has given me permission to publish his speech on my blog so look for that later this week.)
I'm having trouble coming up with words to say how proud I am of NHL. He has put in a tremendous amount of effort into his Bar Mitzvah preparations. He would practice in the car on the way to school and then again at night after his homework was done. He went to temple with me countless Saturdays during which he didn't just observe the service, but interjected himself into it. That Ashrei prayer I mentioned earlier? He was the regular reader of that virtually every Saturday we attended services. And after that prayer, he would walk around behind the Torah shaking everyone's hands. So many other Bar/Bat Mitzvah kids show up at temple for the first time on their Bar/Bat Mitzvah day and then vanish forever. NHL has showed that he likes having a place in the synagogue. Though, I might give him a week off this coming Saturday – he's earned it.
And the reading from the Torah that NHL did? Reading Hebrew is hard enough with vowels. Believe me, I know. I can read Hebrew but at a snail's pace. I rely on having memorized virtually all of the prayers over the years. If I had to lead a service going solely by reading the Hebrew, the three hour long morning service would likely take a good ten hours or more. When you read from the Torah, though, all of the vowels are removed. Consider that for a moment. D y knw hw hrd t s t rd nglsh wtht vwls? Srsly. t's xtrmly dffclt t d.* Now take some text in a completely different language and remove the vowels. Or better yet, here's a glimpse of NHL's text from a photo taken at one of his practice sessions (since photos weren't permitted on the big day):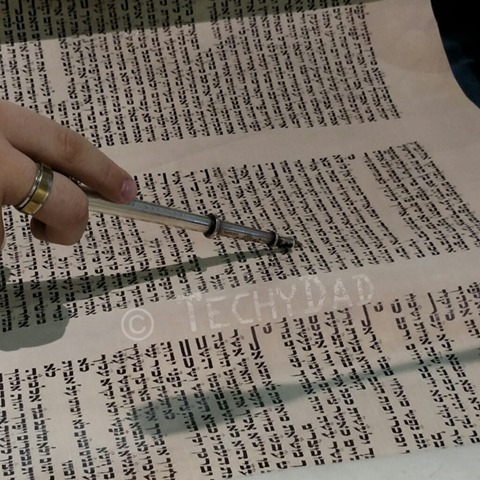 Could you read that? I certainly couldn't. I know that NHL memorized much, if not all, of it, but the sheer fact that he fit that much in his brain and still had room for everything else is amazing. I'm in awe of my son and will be telling him how proud I am of him until he's sick of it. Then I will proceed to tell him a dozen more times before considering whether I should lay off of it for a couple of minutes.
Congratulations, NHL. You did amazing on Saturday and I'm so proud of my Bar Mitzvah Man!
* For those really confused: "Do you know how hard it is to read English without vowels? Seriously. It's extremely difficult to do."