What Do You Get When You Cross Cee Lo Green and Elmer Fudd?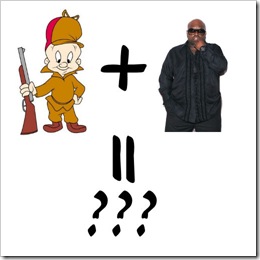 There are days when my mind takes a weird turn.  Perhaps, I'm overtired or maybe just feeling silly, but my mental train jumps the tracks and decides to head for the hills.  There, the bumping around causes me to mash completely unrelated items.  Maybe, I'll pit Papa Smurf against Voldemort or maybe I'll ponder what drugs Dora might be on to make her think that a monkey is her best friend and that she needs to keep items away from a kleptomaniac fox.
Recently, my boys have gotten addicted to a certain song by Cee Lo Green: Forget You.  The original version of the song uses another F word in place of "Forget."  However, "Forget You" is the radio – and kid – friendly version.  If you haven't heard it yet, here it is:
Now, my track-skipped mental train picked up this song and headed in a zig-zag manner across my mind's landscape.  It collided head-on with another favorite song, albeit from a totally different genre.
Yes, I started combining Cee Lo Green and Elmer Fudd.  You'd think two such different lyrical sources wouldn't mix.  However, as I got the kids ready for bed, I found myself singing the first few lyrics to the song.  I stopped, whipped out my phone, and typed them out lest they be lost when my mental train righted itself.  Later on, when I had some free time, I pulled the real lyrics to Forget You and wrote out the rest of the song.
Now, at one point, I considered filming myself singing this in my best Elmer Fudd impersonation.  Then, I remembered two things: First of all, I'm not a great singer.  I'm not horrible, just not great either.  Were I to try out for American Idol, I wouldn't get passed to the next round, but I wouldn't be one of those weird, horrible singers that they highlight either.  I'd be so boringly average that I wouldn't even make it on air.  Second, my Elmer Fudd impression isn't that great.  Sure, it amuses my kids, but that's about it.
So I'll leave it to the better Elmer Fudd-impersonating singers out there.  If you want to video this, link up to this blog post to let me know about it.  (Perhaps I'll even feature your video here.)
And now, without further ado, here is Kill The Wabbit from the Wabbit Kiwwer album performed by E Fudd Green:
[Chorus:]
I see your footpwints in the woods as I twack you down,
and I say
Kill the wabbit!
I got my double bawweled shotgun and a cawwot twap,
and I say
Kill the wabbit!
Kill the wabbit!
If I wah smawter, I woulda got ya,
Now my gun's all pwugged up (plugged up)
And though I still twy to bwast, it just bwows me up thanks to that,
Skewy wabbit!

I'm sowwy, but the duck told me
That it was wabbit season now.
You say to shoot him, the duck says to shoot you
And my bwain hurts, it just ain't fair.
So I take my AAAAAim and fiwe away
(Such a loud blast)
Well
(Duck bill's spinning)
ooooh
I hit the duck weal good
Yeah. Pwonouns just confwuse me.

[Chorus]

Now you know, I had to twack you
Stick my gun in your wabbit howe
But you tied it, in a knot
Doncha ya know these guns ain't cheap
I just want to shooooot, that waskily wabbit
(But he kissed ya)
Well
(On the lips, ew!)
Oooooh
He dove into his howe
Ooooh, I hate that skewy wabbit!

[Chorus]

Be vewy, vewy, vewy, quiet look hew are wabbit twacks
(Tracks, tracks, tracks)
I twied to chase ya thwew a wog but wound up fawwing off of a cwiff!
(A cliff, A cliff, a cliff)
Uh, Wabbits. Uh! Wabbits! Uh!
WABBBITS!
Oh! I hate them! Oh! I hate wabbits! Oooh!

[Chorus]