The #DisneySMMoms Report: Epcot and Introductions
Note: To see all of my posts on DisneySMMoms 2012, go here.
After we checked in for Disney Social Media Moms, we had some time.  Given that the Yacht Club resort is so close to Epcot, we walked on over.  We had two goals in mind: Playtime and Lunch.  Actually, lunch was at the top of the grown-ups' list, but the kids just wanted to play in the UK.
Lunch took priority, though, and I knew a nice little spot in France.  Thanks to the magic of Disney, France is but a short walk away within Epcot.  We went into Boulangerie Patisserie and got some food:  Vegetable Quiches for B and me, pizzas for the boys… Ok, we were in France so they called them cheese tartines, not pizzas.  Still, it's bread with sauce and cheese.  (Plus, the boys do better when you use familiar terms.)
Next, we walked from France to the UK.
Here, B and her parents went shopping while I supervised the boys as they ran through a small hedge maze.
We also saw some topiaries, sand art, and Duffy.  (More on these later.)
Some more shopping and walking later and it was back to the hotel for us.  After all, B and I had to head over to a introductory reception.
I'll admit, this is precisely the kind of thing that I was dreading.  A social function where you don't sit quietly listening, but rather talk to various people… people you may have met online, people you may have met in person, or people you may not have met at all.
All in all, I think I did pretty good.  I almost went up to someone I didn't know, mistaking them for someone I knew and I introduced myself to one person whom I had met before, but by and large I survived unscathed.
The reception included some nice features like a guy playing the ukulele, some nice food to eat, and a few speakers talking about Adventures By Disney.
Adventures By Disney, by the way, is a Disney-fied tour of far away lands.  You get to see the sights without such mundane worries as how you will carry your luggage.  Trust me, once you've tried Disney's Magical Express for your Disney World luggage versus dragging it all around yourself, you'll appreciate "magical luggage transportation.
Before we knew it, it was time to leave for the Swashbuckler Soiree.  As we headed out, we each got a PhotoPass+ card and disc.  These would come in very handy later on.
One last photo before I close out this post.  Can you guess whose nails these are?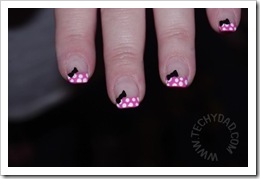 Those would be the nails of Jackie Gailey (aka @jjzmgailey aka Jackie's Magical Moments).  Very impressive!
Disclaimer: We paid for our own trip to Disney World to attend the Disney Social Media Moms Celebration. Though we were given an incredible deal from Disney, they never asked us to blog about this event. All opinions expressed above are my own.