Aloha Friday: Time Travel Destinations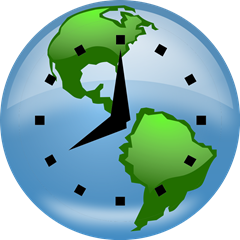 Time Travel has been a hot topic this summer.  First, NHL and I watched the Back To The Future trilogy.  He marveled at the exploits of Doc Brown and Marty McFly through various time periods.  Then, more recently, we finished Harry Potter and the Prisoner of Azkaban where time travel factors in heavily.  (Time travelling wizards!)
The big recent time travel introduction, though, has been my introduction to the world of Doctor Who.  I had put it on my Netflix Instant Queue a long time ago and kept meaning to watch it.  Last week, I finally took the plunge.  I've been addicted ever since.
For those who don't know, Doctor Who is the story of a time travelling alien known only as The Doctor.  He's the last of his race, the Time Lords.  He travels through time and space with one or more companions.  Along the way, he inevitably runs into danger which he overcomes using mainly his wit and intellect.
My Aloha Friday question for today is: If you could travel to any place in the future or past, where would you go and why?
P.S. If you haven't already, try out my Twitter applications: FollowerHQ and Rout.
Disclaimer: The "Earth Time" image is a combination of Glossy Globe by Freedo and Clock by Palomaironique, both of which are from OpenClipArt.org.
---
Thanks to Kailani at An Island Life for starting this fun for Friday. Please be sure to head over to her blog to say hello and sign the linky there if you are participating.
Aloha #154