The #DisneySMMoms Report: Poolside In Art of Animation, Part 3
Besides having plenty of food, there was also plenty of entertainment during the Art of Animation party.  The spray grounds and playground were open for kids to explore.  Giant corals walked past and posed for photos.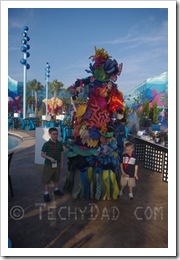 The thing that captivated my kids, however, was the balloon animals.  A few people were blowing up balloons, shaping them into animals (and other structures) and handing them to kids.  My boys begged to get one and so we waited… and waited… I'll be honest, more than once I wanted to escape the balloon line to go explore more of Art of Animation.  However, this particular balloon artist, Carl, was being quite entertaining.
He would ask a child what they liked and would then produce a balloon tailored to their exact tastes.  There was a flying saucer (complete with alien inside), Ariel (with green mermaid tail), monkeys climbing trees, and much more.  My boys were extremely patient even when the line got a bit chaotic and other kids wound up getting their balloons first despite not having been on line as long.
Carl, noticed this and, when my boys' time approached, he asked what they wanted.  JSL asked for a Pluto but wanted blue mixed in.
But NHL's was truly outstanding.  Carl started blowing up a series of long balloons, snaking them together.  He challenged NHL to guess what it was, but we were all stumped.  Then, he produced two big, ball shaped white balloons.  It all started to come together as he blew up and enormous balloon, put the mass of long balloons below it and used the ball shaped balloons as eyes.
Yes, NHL had a giant, orange octopus.  He was so happy and wanted to show it to everyone he met.  The smiles on both of their faces were well worth the wait.
Sadly, we knew that the balloon animals would not be able to join us in the next leg of our journey.  We didn't want to upset the kids though, so we came up with a plan.  As we entered the hotel, we positioned the animals on a convenient couch and took photos of them.  The actual balloon animals were left in our hotel room.  When we got home, we printed off these photos and put them in small photo books for the boys along with photos they have from Disney and other memorable events.  Now, Carl's balloons will last forever for the boys.  They can look at them whenever they want and remember his amazing balloon creations.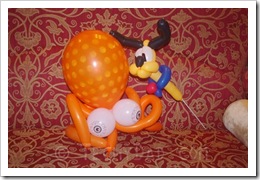 Before I left the party, I gave Carl my card and let him know I was going to blog about this.  I'm not sure if he'll stop by so many months later.  If, by chance you're reading this Carl, thanks again.  My boys still love the balloons and had a blast watching you work your magic.
Disclaimer: We paid for our own trip to Disney World to attend the Disney Social Media Moms Celebration. Though we were given an incredible deal from Disney, they never asked us to blog about this event. All opinions expressed above are my own.
Note: To see all of my posts on DisneySMMoms 2012, go here.