Test Track Fun – Even When The Ride Is Over
Last week, I gave a tour of the new "make your own car" feature in Test Track.  Once you are finished designing your car, you wait for your ride vehicle.  As you walk up to the boarding area, you tap your white card against a glowing circle to link your car with your ride vehicle.  As you do so, others in your vehicle will do the same.  Then, you board your vehicle and go for a ride around the track.
The ride is very much like the old Test Track, except much more futuristic looking.  There are tests such as braking and steering.  There's a wind tunnel where a stream of "colored air" goes above you as you view yourself in a mirror.  As each series of tests is completed, a ranking of the linked cars is displayed.  Your car may take the top spot in one test only to fail miserably in another.
At the end of the sequence, like in the old Test Track, you go into a "crash test" where the wall moves out of the way at the last second.  Instead of smashing into a wall, you go zooming along a track outside.  Here's a video I made during the Grand Opening.  (NOTE:  It's very dark and shaky, but was the best I could do.  The actual ride is much, much cooler than this video shows.)
Perhaps the coolest change, however, comes after the ride is over.  Instead of just exiting outside or going into the standard store-after-the-ride, Test Track lets you out into a series of rooms where you get to do even more with your designed cars.
First, you can see how your car ranked against other cars designed that day.    Next, you can design some car commercials starring your vehicle.  After this is an area where you can take your photo with some real cars.  (This area wasn't completely functional when we went so, unfortunately, I didn't get to try it.)
Perhaps the coolest post-ride feature, though, is the racing game.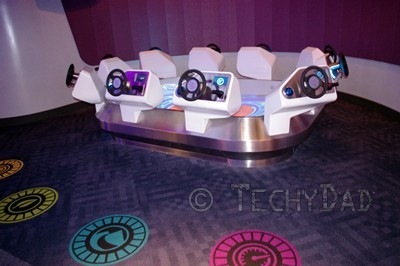 That's ten controller areas around a "race track."  The track is, of course, a video game screen.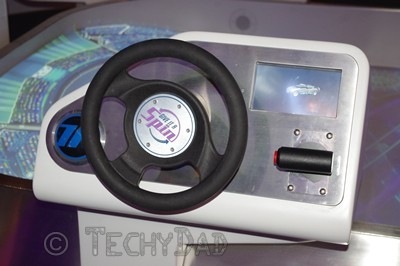 See that circle to the left of the steering wheel?  Simply touch your card against that and your car will appear on the track.  You then use the lever to the right to go forward or backward and faster or slower while you steer with the steering wheel.  Loop your way around the track, avoiding obstacles, and without crashing into the other players' cars.  (Or crash into them and try to knock them aside.)
With all of these fun things to do, Test Track is going to be a fast favorite with my boys.  In fact, I think we'll have our work cut out for us when we need to drag them out of the post-ride fun to go see other sights.
Disclosure: I was invited to the New Fantasyland media event December 5th through 7th. Disney paid for my travel, our park tickets, room, and a few other items. I was able to take B along as my guest, but we paid for her own travel as well as an extra night in the resort. The opinions expressed above are my own. – See more at: http://www.techydad.com/2013/02/designing-a-car-on-disneys-test-track/#sthash.X23OoG2W.dpuf