To Disney Infinity and Beyond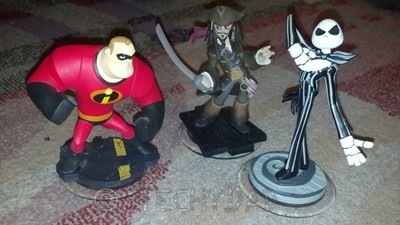 When Disney Infinity was released, we were conflicted.  On one hand, we are fans of all things Disney.  On the other hand, though, buying figure after figure seemed like an expense we didn't need to add.  For the longest time, we resisted the lure.  Last week, though, an amazing deal came up that we just couldn't pass by.  Then, we had another deal that convinced us a few more Disney Infinity figures.  I've got to admit, as much as I resisted investing in it, I'm loving Disney Infinity as much as the boys.
The basic set gets you Sully, Mr. Incredible, and Jack Sparrow.  In addition, we've bought Mike Wazowski, Jack Skellington, Woody, Buzz Lightyear, and Jessie.  The boys will also be getting Syndrome, Dash, Randall (from Monsters University), and Francesco Bernoulli (from Cars 2) soon as late Chanukah gifts.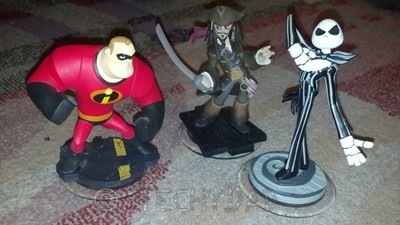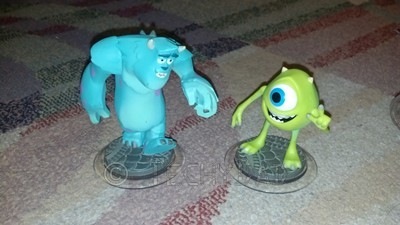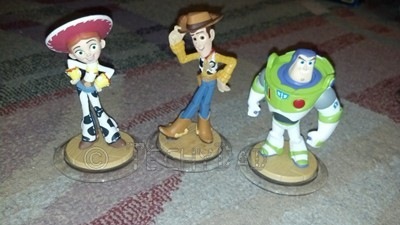 The basic set comes with the Monsters University world, the Incredibles world, and the world of Pirates of the Caribbean.  Buzz and Jessie came with the Toy Story world.  In each world, you get to complete tasks, obtain weapons and vehicles, and generally explore.  However, the worlds are not even the best part of Disney Infinity.  That is the Toy Box.
Within the Toy Box, you get to create your own world.  As you complete tasks (either in the Toy Box or in the various other worlds), you get "spins" which randomly give you items to use in the Toy Box.  The more spins you get, the more items you get, and the more varied your Toy Box world becomes.
There are even elements in the Toy Box that can be programmed.  You can have fireworks and music triggered if you step on a certain element.  Put enough of these elements together and you can make your own games.  I assembled one for my boys that required them to jump over chasms, climb floating mountains, and wind their way to a trigger that resulted in fireworks/celebratory music.
It's official: The boys and I are hooked on Disney Infinity.  We just can't get enough of playing our favorite characters, seeing familiar (and new) Disney scenes, designing our own areas, and fighting Disney enemies.  This is one game that is sure to be playable for a long time to come (and is sure to keep me up late many, many nights as I just finish one more section).