The Mac and Cheese Holy Grail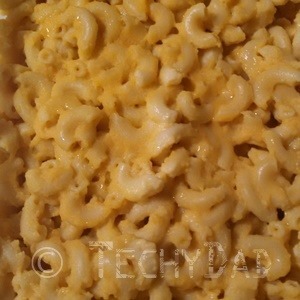 I guess I should have known better.
A couple of days ago, I was pondering a big brick of cheddar cheese that I had bought.  You see, the kids love macaroni and cheese, but they only seem to like the boxed variety.  While I'm not averse to ripping open a package of powdered "cheese" and adding milk, I'd rather that they eat something a bit healthier.
For years, I've been on a quest to figure out the perfect way to cook macaroni and cheese from scratch.  I've tried recipes that involve pureed sweet potatoes (to give the dish that distinctive orange color) and recipes that just call for cheese.  I've tried baked and stove top varieties.  My one major complication is that many recipes that approach the boxed variety call for Velveeta which I can't use since it isn't kosher.
No matter what I try, though, it always seems to end in failure.  My latest batch was rejected by both boys upon their first taste.  Even B said she didn't like it though she choked down a bowl.  The culprit seems to have been the cheddar cheese – too sharp for everyone's palate – and possibly the ground mustard.
You might think that I"d give up.  I probably should.  However, my disappointment at the failed recipe is countered by my stubbornness.  I'm determined to get this right no matter how many tries it takes.  That "holy grail" will be mine and it will be filled with delicious, homemade macaroni and cheese.
What is your favorite, homemade macaroni and cheese recipe?  (Ideally without Velveeta.)