Guardians of the Galaxy Deleted Scenes And The Upcoming Marvel Movies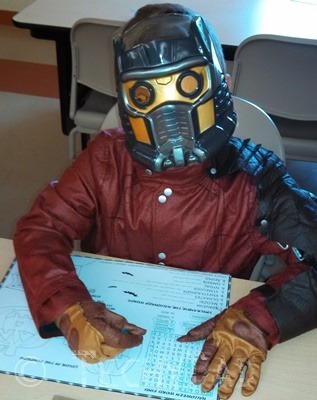 This past weekend, we found some deleted scenes from this summer's hit Guardians of the Galaxy movie.
Here is Peter Quill, aka Star-Lord, spending some downtime between beating up bad guys trying to solve a Search-A-Word puzzle.  I'm unsure if his mask is helping him find the words.  No cheating!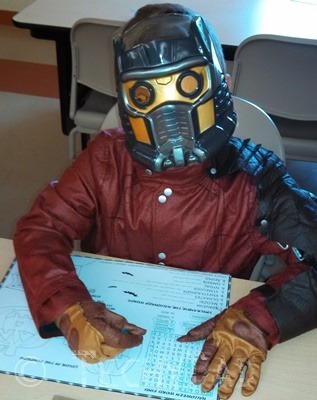 This is the scene where Star-Lord falls through a dimensional rift and winds up in the Angry Birds Star Wars universe.  He has to battle Lard Vader before making his way back to his own realm.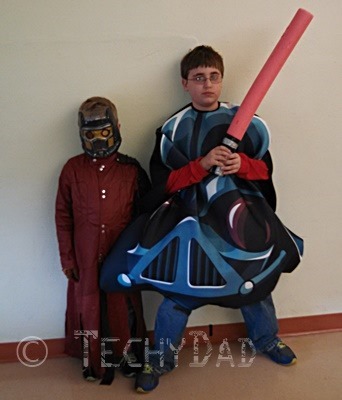 Ok, so these were scenes from a weekend Halloween activity and not Guardians deleted scenes.  Still the boys had fun and are looking forward to Halloween.
Speaking of looking forward, I just read the "Marvel Cinematic Universe Phase 3" plan and neither I nor my boys can wait.  In case you haven't seen it, here's the rundown.
Avengers: Age of Ultron (5/1/2015) – This one already has a great teaser trailer out. (Update: Right when I posted this, a "Special Look" went live also showing some of the heroes trying to lift Thor's hammer.)
Ant-Man (7/17/2015) – It will be interesting to see what big adventure this little hero will have.
Captain America: Civil War (5/6/2016) – In the comics, the Civil War story arc started when Iron Man advocated for a law requiring all superheroes to register with the government (and have their secret identities exposed).  Captain America, meanwhile, was against this and the two (as well as the superheroes on both sides) clashed.  Sure enough, I've heard Iron Man/Tony Stark will be in this movie.
Doctor Strange (11/4/2016) – According to rumors, Benedict Cumberbatch (aka Sherlock Holmes from the BBC's Sherlock) is being asked to become the Sorcerer Supreme.
Guardians of the Galaxy 2 (5/5/2017) – JSL is already asking about trailers for this and was disappointed that he'll likely have to wait two years for one.
Thor: Ragnarok (7/28/2017) – Ragnarok is the Norse concept of the end of days, but in the comics (according to my Wikipedia search) it dealt with a cybernetic clone of Thor being made when the original was thought dead.  Will we see Thor and Evil-Cyborg-Thor duke it out on-screen?  And what will this mean for the state we left Asgard in at the end of Thor 2?
Black Panther (11/3/2017) – Another favorite superhero of ours.  He will be played by Chadwick Boseman (whose previous works I haven't seen).  Interestingly enough, Chadwick's IMDB page says he will also appear in the Captain America: Civil War movie.
Avengers: Infinity War, Part 1 (5/4/2018) – Finally, the Infinity Saga comes to a head.  We've been seeing the Infinity stones here and there and I'm sure we'll see more before this movie comes out.  What really struck me is that this is Part 1.  They are going to do this right and take their time with the story.  My best is that Part 1 will conclude with Thanos getting the final Infinity Stone and the heroes looking like they're beaten against his tremendous might.
Captain Marvel (7/6/2018) – There are many incarnations of Captain Marvel.  I'm hoping they opt for the Carol Danvers one.  It will be nice to see a powerful woman kicking some bad guy keister.
Inhumans (11/2/2018) – The Inhumans are a society of individuals with fantastic powers that keep hidden away from "normal" society.  They aren't really fully human but aren't mutants either.  Their leader, Black Bolt can't speak.  Well, he can, but his voice is so powerful that a mere whisper of his could bring buildings crashing down.  He's definitely the strong, silent type.
Avengers: Infinity War, Part 2 (5/3/2019) – This is the conclusion to the Infinity Saga.  Expect heroes from many movies, not just Avengers, taking part in the final showdown against Thanos.  Just picture Iron Man, Captain America, Thor, Hulk, Doctor Strange, Captain Marvel, and Black Panther fighting alongside Star-Lord, Drax, Gamora, Rocket, and Groot.  It will be quite the team up.
Where the Marvel Cinematic Universe goes from here, I don't know.  On one hand, I can't wait to see it all.  On the other hand, by the time Avengers: Infinity War, Part 2 rolls its final credits, NHL will be almost 16 and JSL will be almost 12.  Maybe I can wait after all.
What upcoming Marvel movie are you most excited about?  What superhero would you love to see made into a movie?