The History of Universe Set To Rhyme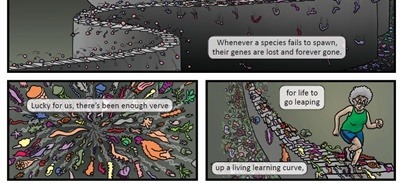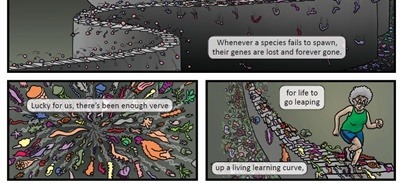 I'm a big fan of science.  I also love comic books.  So when I heard about James Lu Dunbar's comic – The Universe Verse – I wanted to read it.  When I learned that it was a rhyming comic book, I definitely wanted to not only read it, but wanted to read it to my children.  I actually posted about the first two books of the Universe Verse three years ago.
Since then, James has released a third book in the series.  Bang! (Book One) covers the Big Bang, the formation of matter, and how stars and planets were made.  It's Alive! (Book Two) handles the origins of life, Evolution, and DNA.  However, It's Alive! only hinted at the scope of life that came to be.  James ' third book Great Apes! goes back to those single cell organisms and shows how they became more complex.  It takes us to the era of multicellular organisms, the end of the Dinosaurs, the rise of the mammals, primates, humans, language, and finally science.  If you think this quick summary tells the whole story, though, you are sadly mistaken.  Throughout the book, James takes complex subjects and makes them easy to understand.  He also makes it all rhyme which can be helpful when little kids hear words like photosynthesis, mitochondrion, or eukaryotic.
I would definitely recommend James' work to any parent who loves science or any kid who loves science.  I know I'll be reading this book to my kids (as well as re-reading it myself several times).  If you want to sample it, I've got some good news for you.  For the month of December (which, as of this writing still has nine more days left), you can download the eBook version for free.  Yes, you get all three books in PDF format for absolutely nothing.  These could easily be loaded onto a tablet or computer to read.  For a more offline version, though, you'll probably want to buy the hardcover version which can be purchased at 20% off of the normal $24.95 price by using the coupon code "fanclub".  (NOTE: I'm not sure how long this coupon is good for so I recommend buying his book quickly.)  There are also bulk discounts if you want to buy three or more copies and distribute them to your friends and family.  It's probably a little too late to buy them for Christmas or Chanukah, but there is never a bad time to give the gift of science!
NOTE: I received a free copy of James Lu Dunbar's The Universe Verse in PDF form via the deal I mentioned above.  At no point was I required – or even asked – to review it, though.  All of the opinions expressed above are my own.