Happy 8th Birthday, JSL!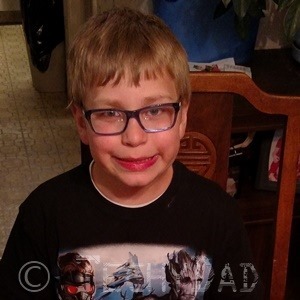 Yesterday was JSL's birthday. My little guy is growing up so quickly. He's constantly surprising me and delighting me. He's turning into quite the little geek. He loves superheroes and plays with his Imaginext superhero sets constantly, making up new battles for them to engage in. Every week, we need to see the latest episodes of superhero/geeky shows like Teen Titans Go, Flash, Teenage Mutant Ninja Turtles, and Doctor Who.
He also loves Star Wars. We watched the first season of Star Wars: Rebels together and he loved every moment. When I showed him the trailer, he was both excited and disappointed. He was excited to get a glimpse of the new Star Wars movie, but disappointed that he had to wait until December to see it.
JSL's love of all things geeky doesn't just limit itself to pre-made heroes, though. He has created his own superhero ("Brickman") complete with a backstory, drawings, and super-villains to fight. He loves art in all forms and is constantly wanting to create new works of art.
He is also a voracious reader. Over the past year, I've lost count of the number of books he's torn through. He will complain loudly if we leave the house and he doesn't have a book to read. Even if it is just a short car trip, he can't be without reading material to pass the time.
Lest you think that JSL is stuck in the house all day, he also loves playing outside. Since learning to ride his bike last year, he's been a big fan of going on bike rides up and down our block. Now that I've got a bike of my own and the warmer weather is there, I think we're going to go on some father-son bike rides together.
In the past, I've referred to JSL as my picky eater. I've said that he would live on macaroni and cheese and pizza if we let him. However, recently, he's been expanding his menu options. He's tried many vegetables and declared his love for them. (Including some Brussels sprouts that I was sure he'd hate.) He's still somewhat picky, but hopefully that is falling by the wayside.
JSL is a very kind, patient sort of child. He lives for holding the door open for people – even if the line of people coming through is way too long. Whenever he has a question, he will raise his hand – even if class is over and he can just ask it.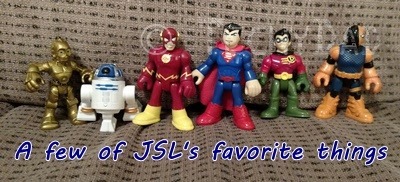 Happy birthday to my sweet and funny JSL. Here's to many more geeky times spent together in the future.