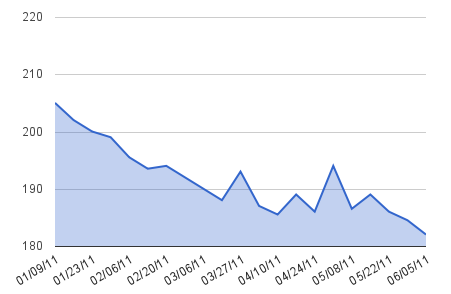 | | |
| --- | --- |
| Starting Weight | 205 |
| Current Weight | 182 |
| Goal Weight | 185 |
| Lost | 23 |
| Left Until Goal | 0 |
This is the final update in my 20 Pounds in 20 Weeks Challenge.  I hit my goal last week, so this week was mainly about making sure I didn't slide back above it.
Not only didn't I slide back above my goal weight, but I shed two and a half additional pounds.  I'm ending this challenge a full three pounds below my goal and twenty three pounds above where I was when I began.
During this challenge, I was using Google Documents to keep track of my points and weigh-ins.  I began using a regular spreadsheet, but quickly realized I'd need to be able to update it no matter which computer I was on.  I switched to Google Documents and it was great.  One of the nice fringe benefits was the ability to generate charts on my weigh-in data and easily export them as images.
Here's a chart of my weigh-ins from beginning to end.  (Click to enlarge it.)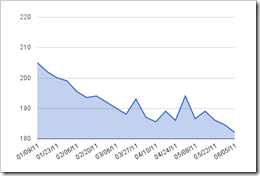 You can see spikes for Disney World, Passover and JSL's birthday.  Otherwise, it was a pretty steady drop.
Over the next few weeks, I plan to keep eating healthy, but I'm not going to hold as rigidly to the points structure as I did during the Twenty Week Challenge.  Perhaps I'll check back in in another 20 weeks (that'd be in late October) to see how I'm doing at keeping the weight off.