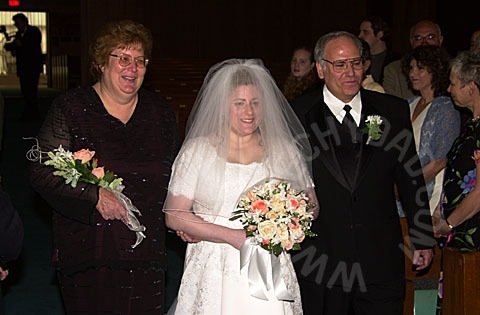 Ten years ago tonight, I was in my apartment getting ready for the biggest day of my life.  I was going to get married to the most beautiful woman in the world.  My friend and best man was in town and staying in my apartment as well.  He was writing out his speech for the reception after the wedding.  (In hind sight, I should have insisted on reading it beforehand.)
The very next day, a gorgeous woman walked down the aisle to me and said "I do."  Our lives changed.
Over the years, our family has grown.  We've had happy moments, sad moments.  We've had angry moments and scary moments.  We've gone through our share of highs and lows.  Still, there is nobody I'd rather have by my side during all of this than my angel, B.
Our lives may have changed drastically in the past decade, but in many ways they haven't changed at all.  I love B with all of my heart and look forward to spending the rest of my life trying to make her as happy as she has made me!
Happy Anniversary, B (a day early), from your Long Island Love!