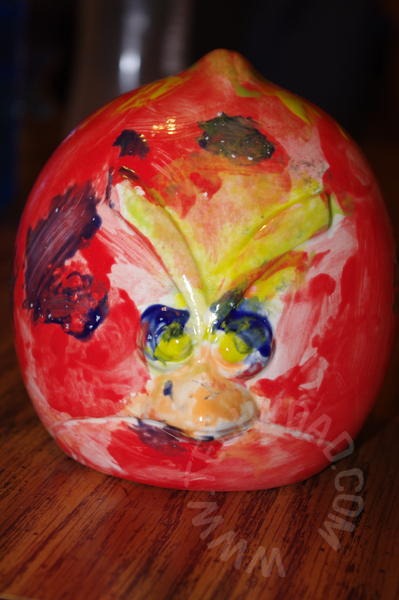 This weekend was quite busy.  We started out shopping for bunk beds.  You see, JSL is still in his toddler bed.  However, despite our insisting, he's growing up.  He's going to need a regular bed.  Unfortunately, the boys' room is too small for two twin-sized beds.  So we're going to have to go vertical.
We think we've made our decision, so now we just need to purchase it.  Then, the fun part will be preparing the boys' room for the bunk bed arrival and setup.  I'll need to dismantle NHL's current bed, JSL's current bed, move a ton of stuffed animals, move toys out of the way, remove some Cars wall clings (that the bunk will likely just cover up), etc.  Of course, I can't do all this too early or the boys will have nowhere to sleep.
In addition, to looking at bunk beds, we needed to pick up NHL's painted Angry Bird.  I knew that the colors would be more vibrant once it was finished, but I was still quite impressed.
The boys begged to do some more projects right then and there, but the store was closing in a few hours and we had to get home (refrigerator/freezer groceries in the trunk).
The next day, however, was a lazy day in.  It was Christmas Day and, while we don't celebrate, we decided to make it a family day.  Ok, the fact that most stores are closed might have factored into it.  Plus, the laziness thing.  Having a lazy day in every once in a while is good.
We mainly spent the day playing computer games and watching TV, including the Disney Parks Christmas Parade.  The boys love parades, though they repeatedly expressed frustration over this one.  Too much singing and not enough characters.  Oh, and when NHL saw Justin Bieber, he let out a loud "Yuck!"  I was so proud. *wipes away a tear*
We ended Christmas Day with our traditional Jewish Christmas Day Dinner: Chinese food.  I lobbied to go out to eat.  Either to a nice, sit-down restaurant or to a buffet.  I even tried inviting B's parents to come with us, figuring that would help push us to get ready.  Still, though the boys were dressed, B and I were still in our PJs.  (Like I said: Lazy day!)  So we ordered takeout.  I tossed on some clothes and picked it up.
Pretty soon, JSL was munching on rice with sweet and sour chicken sans sauce. (We call it "Chinese Chicken Nuggets" to get JSL to eat it.)  NHL had the sweet and sour chicken and some chicken and broccoli.  B and I shared some steamed vegetable dumplings, vegetable egg rolls, and General Tso's Bean Curd.  (Bean curd is tofu and tastes better than it sounds!)  Behold, my Christmas Dinner: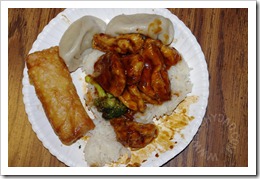 Yes, I know what you're thinking.  Jews eating Chinese food for Christmas dinner.  How stereotypical!  Well, it's our tradition and I'm a sucker for tradition (and Chinese food).
Hope your Christmas weekend was wonderful no matter how you celebrated it!