#DisneySMMoms 2010 – Animal Kingdom (Day 1)
We woke up on Sunday ready to go to have a "super day." Yes, today was Super Bowl Sunday, but we had other plans.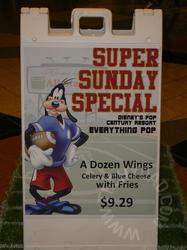 We weren't going to down wings while watching the big game. Instead, we were going to see some animals and have some fun in Disney's Animal Kingdom. We hopped on the bus and made our way there, arriving before the park opened.
Now here comes the first of many cool parts of our day. We had reservations to have breakfast in Tusker House. This meant we were on a special list to get in the park before it opened! No waiting until other people were allowed in for us! Cast members greeted us as we walked to Tusker House and I stopped quite a few times to take photos unobstructed by other people walking around.
We got to Tusker House and checked in. After a short wait, Donald Duck came out to greet us. Ok, us and the other guests, but he was especially happy to see us. NHL was happy to see him, but JSL wasn't too sure. He started to get freaked out and visions of Chef Mickey's danced in my head. Luckily, he didn't seem to mind Donald too much if I was holding him. This would set a theme for the rest of the trip. Calm JSL with characters when Daddy held him. Otherwise, mini-freakout.
The food at Tusker House was quite good. I loved the chocolate bread and mealy pap and especially the juice they served. I've forgotten the exact ingredients, but think it was orange juice, passion fruit and mango. Or something like that. Whatever it was, it was gooood. I downed two glasses and JSL drank plenty as well (as did B and NHL). The desserts were delicious too.
Of course, NHL and JSL couldn't have cared less about the food. They liked it and all (well, NHL anyway, JSL didn't eat much), but their real attention was on the characters. Mickey, Goofy and Daisy made the rounds. We had gotten Mickey, Donald and Goofy's autographs last year, but Daisy was new. 2010 Autograph #1! JSL's main disappointment with breakfast was the lack of Winnie the Pooh and friends. Apparently, he remembered our Crystal Palace meal from last year and wanted Pooh, Tigger, Piglet and Eeyore. Alas, he wouldn't see them here.
Before long, breakfast was over and we headed off to have a safari adventure.
Now, if you ever go on this ride, take lots of pictures. Not just because you'll see a ton of great animals, but because the car you're riding in will bounce and shake and move and you'll get a lot of photos looking like this.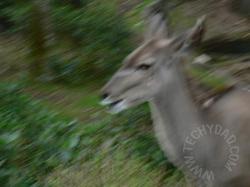 Then again, that does have a certain artistic quality to it… In any case, here are some of the better photos from our safari.
After our safari, we headed to a place we didn't get to do last time: The Pangani Forest Exploration Trail. Unlike the safari trip, the trail is a walking tour so you can stop and photograph animals to your heart's content.
As we left the gorilla area of this trail, JSL fell and we needed to go to First Aid. Leaving First Aid, we scored some more autographs (and photos): Terk from Tarzan, Flick from A Bug's Life, and Baloo from Jungle Book. 2010 autograph #'s 2, 3 and 4! We also saw a fantastic walking vine lady. Unfortunately, she seemed unable to sign given that she had no hands.
Next, we did something else we didn't do last time: take the train to Rafiki's Planet Watch. Here, NHL and JSL got to participate in some animal discovery, see animal skulls and get more autographs. This time Jiminy Cricket and Rafiki (2010 autograph #'s 5 and 6).
After taking the train back, we went on (you can see it coming, right) yet another thing we didn't do the last time. (There's a theme to this, right?) Maharajah Jungle Trek. Here we saw lions and tigers and bears, oh my. Well, not lions and bears. But there were plenty of tigers and cattle and birds.
After the trek, we went on a quick walk through Asia where NHL refused to ride Expedition Everest again and over to Dinoland where we rode the Triceratops Spin. B had hoped to take NHL on Primeval Whirl, but he wound up being an inch or two too short for Primeval Whirl.
Next, we found a spot where Pooh, Tigger and Eeyore were posing for photos. JSL was happy to finally see them and we got our pictures taken. Then we had some ice cream cones for a quick snack/lunch. After that, we saw more characters. This time Thumper and Miss Bunny (2010 autograph #'s 7 & 8), Chip and Dale (2010 autograph #'s 8 & 9), Donald, Minnie, Mickey and Goofy.
At this point, we decided to go on the safari again. We were in luck. Lions sleep for about 20 hours of every day so every time we'd gone before they were sleeping. This time, though, we got to see a male lion walking about. As lions are one of NHL's favorite animals, this was quite the treat. During the end of the ride (where you take some fact zig zags as you pursue poachers), JSL fell asleep. The cast members told us they'd never had anyone fall asleep on the safari ride before. Leave it to JSL to make a Disney World first!
As we left Africa, we saw ropes set up. Clearly a parade route was being marked off. We hadn't seen the parade last time and there were plenty of good spots left, so we staked out a location and waited. Our patience was rewarded with a fantastic parade filled with many wonderful sights (and some costumes… no signatures though). NHL loved the parade. Before it began, we toyed with waking JSL up to see the parade, but we decided to let him sleep through it. He would have enjoyed it, but we all enjoyed having a rested JSL later on a lot more.
After the parade, we headed over to the Animal Kingdom Lodge to eat dinner at Boma. I don't remember the names of everything we ate, but man was it all good!
After Boma, we headed back to the hotel for some much needed rest. After all, there was plenty of Disney World to see tomorrow!