#DisneySMMoms 2010 – Traveling to Disney (Day #0)
When we went to Disney World last year, we travelled with B's parents. This meant we had backup. It was four adults, two children. That's enough coverage to pull suitcases, wrangle little ones and still have an adult hand or two free. This year, there was no such luxury. It was B and me toting suitcases and two kids.
From the start, it was "fun." B'd father dropped us off at the airport and we tried to figure out how two adults with four hands total would carry five carry-on bags and four suitcases while looking after two children. We opted for the "crossing the river slowly" approach. That is to say, B stood with the bags while I brought some inside some glass doors. Then I left NHL with the bags, positioned myself so I could see both him and B and signaled B to proceed. She brought more bags to NHL until they were all by him.
Where was JSL in all of this? In his words: "Up daddy!" That is to say, he wanted daddy to pick him up and was throwing a tantrum otherwise. So, lugging him onto one of my arms, we found ourselves down an arm.
We finally got our bags on line to check in and slowly made our way to the counter. There, we gave up our checked luggage, freeing us up considerably. The trip to and through security went smoothly. We learned from last time that one should tell security about things like diaper rash cream because it *will* trigger the scanners and they *will* have to search your luggage to figure out what they strange tube is.
In any case, we made it to our gate and then onto our plane with no major events. Before we knew it, we were in the air.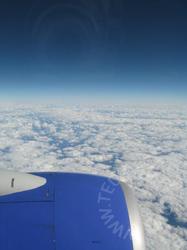 I sat next to JSL while B sat behind us with NHL. The trip went pretty smoothly and we landed in Orlando with the kids eager to see Mickey and company. We made our way over to the Magical Express and were quite surprised. You see, last May, there was this huge, hour-long line to get to the Magical Express. This time, there was no line. We walked right up and (after a quick bathroom/diaper change break) actually boarded a bus immediately! Magical, indeed!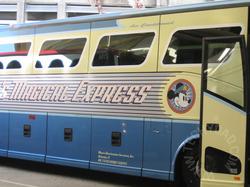 We got to our hotel, the Pop Century Resort and, before even entering, picked up our rented double-stroller from Orlando Stroller Rentals. Then we went inside to check in. The kids were getting antsy. Too much time couped up on an airplane seat. So I took them to the Everything Pop store to do a little browsing (but not buying… yet) to kill time while B got everything set up.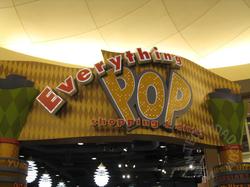 When everything was done, it was time for dinner. We used one of our quick service meals for our dinner. B and I each had vegetable lasagna (quite good) while NHL had pizza. We also bought a bagel and cream cheese for JSL. Of course, dessert was tie dye cheesecake. (Insert Homer Simpson Drool sound here.)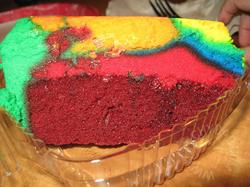 After eating, we wandered around for a bit. Our hotel was in a section of Pop Century that we hadn't explored during our previous trip so there was lots of new things to see like a huge can of Play Doh, Mowgli and Baloo and the largest jukebox I've ever seen.
After that, we went to our hotel room to rest up. We had quite the animal adventure planned for the next day!