#DisneySMMoms 2010 – Goin' Hollywood… Studios (Day 2)
Monday, February 8th was our Hollywood Studios day. On the way to the bus, I quickly took some photos of the Pop Century sights in the daytime.
When we got to Hollywood Studios, we implemented "The Hollywood Studios Strategy." This is something we did last year and something I recommend doing if you go. Step 1 is to get there before the park opens. Step 2 is to give all of your tickets (once you get through the gate) to a fast walker. (NOTE: You'll be stopped if you run as that would be unsafe. But power walking is just fine.) Step 3 is to have your ticket carrier fast pass Toy Story Mania as the rest of your party catches up. Step 4 is to get on Toy Story Mania. Yes, you read that right. Get on Toy Story Mania after getting a Fast Pass for it. This way you'll get to ride Toy Story Mania at least twice that day without long lines.
Of course, we nearly had a wrinkle in the perfect plan. I arrived at a Fast Pass machine, put in a card and nothing. The machine refused to give me a Fast Pass slip or give me my card back! Luckily, a cast member was on the ball and retrieved my card. We tried it in another machine and I got our Fast Pass slips. Then I met up with B and the kids for our first ride of the day.
When we went on Toy Story Mania last year, we fell in love with it. The entire ride is just amazing. We even bought the Toy Story Mania game for the Nintendo Wii based solely on our love for the ride. Riding Toy Story Mania this year just reinforced that love. If I could ride it five times in a row, I wouldn't pass up the opportunity.
After Toy Story Mania, we moved on to a ride in a galaxy far, far away: Star Tours. We didn't ride it last year, but had introduced NHL to the first two Star Wars just before this trip. So NHL was happy to see C-3PO and R2-D2 on our way in. We boarded our StarSpeeder and RX-24 ("Rex") took us on an uneventful tour of Endor's moon. Well, that was the plan anyway. As anyone who's ridden Star Tours can attest to, Rex needs some more practice. The ride was certainly fun, even if Rex did exit the hanger the wrong way, shoot past Endor into a comet field, and almost kill us in a Rebellion-Empire battle.
After we got off Star Tours…. we went right back on it. After that, however, we made our way over to Muppet Vision 3D. We saw this last year and loved it. Unfortunately, JSL didn't like it this time. The 3D aspect spooked him (as would be the case for every 3D show we saw). NHL, however, loved the show.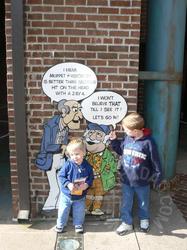 Leaving the Muppets behind, we took our picture with Lightning McQueen and Mator. Sadly, they have no hands to sign autographs. No worries, though, because as we headed back to Toy Story Mania we met up with the Green Army Men. 2010 autograph #11! Then it was back on Toy Story Mania for more fun. (And time to get more Toy Story Mania Fast Passes!)
When we were done, we headed across the way to meet up with Woody and Buzz. Now we had gotten Buzz's autograph last year, but we still needed Woody. The line was long, but Disney being the line/time management geniuses that they are had it covered. The line wound past various "photo opportunity" spots like being in Buzz Lightyear's box, strapping on the rocket from Toy Story 1 or being stuck in a box with Stinky Pete. The kids couldn't wait to run from photo spot to photo spot. Before we knew it, we were having our picture taken with Woody and Buzz. Don't ask me how I didn't realize it at the time, but the whole Woody/Buzz meetup spot is decorated like Andy's bed, complete with Rex and Hamm.
After going "To Infinity And Beyond", we needed to refuel. A stop by Pizza Planet was in order. NHL and JSL got cheese pizzas while we got vegetable pizzas. For dessert? Cookies and Mickey shaped marshmellow rice krispy treats! Yum, yum, yum!
We needed time to digest our meal, so we went on the Backlot Tour. This is something we didn't do with the boys last year so we figured we'd do it now. I'll admit I don't think this was their favorite, but they did like seeing the explosions and everything. It might not be a Toy Story Mania, but it certainly held their interest. After the tour, we met up with Mike Wazowski from Monsters, Inc. Unfortunately, Sully was at a meeting and couldn't make the photo. Also unfortunately, monster hands do not lend themselves to autographs.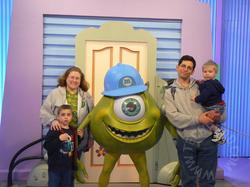 Now it was time to go autograph crazy! We headed to the animation section of Hollywood Studios and got signatures from Handy Manny (#12), Leo and Annie from Little Einsteins (#13 & 14), and Jo-Jo and Goliath from Jo-Jo's Circus (#15 & 16). Then we headed inside The Magic of Disney Animation to get signatures from Mr. Incredible, Mrs. Incredible, and Frozone from the Incredibles (#17, 18, & 19) and 3 of the characters from Up (Mr. Fredrickson, Doug the dog and Russell – #20, 21 & 22). We also had our picture taken with Sorcerer Mickey, but we already had Mickey's autograph from last year.
Staying in The Magic of Disney Animation, we got the chance to draw our own characters. NHL really wanted to draw Stitch, but Goofy was chosen instead. (More on this another day.) NHL was upset afterwards that his Goofy didn't look right. I told him that the animators spend a lot of time practicing and that I thought his looked pretty good for it being his first time.
After leaving Disney Animation, we used our Toy Story Mania Fast Passes to go on that ride for the third time that day. Do you think we liked it? After the ride, JSL was getting tired, so I let B push JSL in the stroller while NHL and I went into the "Honey I Shrunk the Kids" Movie Set Adventure. This is a playground where you get shrunk down and get to walk past blades of grass as tall a trees, slide down a discarded film canister, ride an ant and walk through a spider web. NHL loved it and got out a lot of energy.
As we left (relucantly in the case of NHL), we popped back in on Mike Wazowski to find that Sully was there this time. Everyone say SCREAMS!
Next it was time for the great movie ride. The kids liked this one, though NHL didn't like the part where the lady "turned into a skeleton and was dead."
Our time at Hollywood Studios was drawing to a close, but we did get back to the animation area in time to see June and Quincy from Little Einsteins (#23 & 24).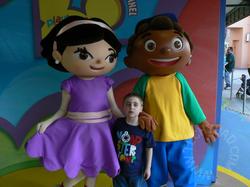 We took a bus from Hollywood Studios to the Polynesian where we had a great dinner at the Kona Cafe. NHL had Mickey ravioli and fruit, B had the Teriyaki-style New York Strip and I had the Pan-Asian Noodles (without the chicken). JSL shared some of each of ours. Oh and their bread. If you ever stop there, don't pass up their wonderful bread with macadamia nut butter!!! YUM! For dessert, B had White Chocolate Cheesecake and I had the Kilauea Torte. The latter is a chocolate cake that's hiding a gooey chocolate surprise!
Leaving the Polynesian, we took the monorail to the Magic Kingdom and then took a bus from there back to the Pop Century.