Hot Potatoes! The BEST of The Wiggles Review and Giveaway
We've been fans of The Wiggles since NHL was young and they were on Playhouse Disney. We've been to three Wiggles concerts and seen countless TV shows/movies. We've pointed our fingers and done the twist, mashed some potatoes, woken up Jeff and even rode the Big Red Car. When we go in the car, JSL will invariably ask for "toot toot chugga chugga" (his code word for the Big Red Car song). When NHL goes to sleep, he insists on listening to Go To Sleep Jeff (a series of slow songs designed to help kids fall asleep). Needless to say, they (and we) were excited to hear about a "best of" Wiggles compilation.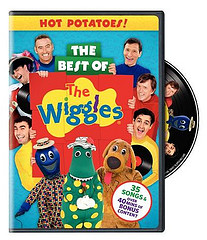 The first thing I liked about this DVD was the inclusion of Greg. As any Wiggles fan knows, Greg had to step down as the Yellow Wiggle due to health reasons. Even though Sam stepped up and made a fine Yellow Wiggle, many of the Wiggles classic songs were done with Greg. Instead of having the Wiggles re-record these past hits (with Sam), they simply did an introduction to the piece and then let the original video speak (sing?) for itself. This also gave you a chance to marvel at how young the Wiggles looked during some of their early videos!
Of course, the next thing we liked were the songs themselves. From Wake Up Jeff to Monkey Man to Hot Potato to Hot Poppin' Popcorn, there was a good mix of classic and newer Wiggles songs. When we put this on, it didn't take long for the boys to get up and start dancing.
Finally, I loved the bonus material. Seeing the Wiggles' mothers talk, while not too exciting for my 3 and 7 year old, was very interesting to me. My kids and I both enjoyed seeing some of the early Wiggles videos too. They marvelled at a very young Anthony, wearing green instead of his usual blue, singing with a very young Greg, Jeff and Murray in an obviously low-budget setting (especially compared with current Wiggles productions).
All, in all, this DVD is going to see a lot of use and my kids are going to get a lot of exercise dance a lot thanks to the wonderful songs on it. Hot Potatoes! The BEST of The Wiggles is definitely a must have DVD for any Wiggles fan.
Giveaway:
Thanks to The Wiggles, one lucky winner will receive their very own copy of Hot Potatoes! The BEST of The Wiggles DVD. To enter, simply leave a comment below answering this question: Who is your favorite Wiggle or Wiggles character?
You can also earn bonus entries by doing any (or all) of the following items. Just be sure to leave a separate comment for each item that you complete.
Follow @TechyDad on Twitter. (1 bonus entry)
Tweet about the giveaway on Twitter. Be sure to include @TechyDad, The BEST of The Wiggles DVD Giveaway, and a link to this post in the Tweet. (1 bonus entry per day) For example: Get ready to Wiggle. Chance to #win The BEST of the Wiggles DVD from @TechyDad. http://bit.ly/cY0Yd6 #Giveaway
Subscribe to my RSS feed or let me know if you already are. (1 bonus entry)
Leave a comment on any of my non-giveaway posts from July/August. Leave a comment here letting me know which post you commented on. (1 bonus entry per comment, maximum 3 entries)
Write a post on your blog linking to this giveaway. Leave 3 comments about this to get credit for all of your extra entries. (3 bonus entries)
To enter, please follow the rules above within the comment section. Contest starts today August 19 and ends at 11:00 AM EST on September 2, 2010. You do not have to be a blogger to enter, but must leave a valid e-mail address for me to contact you for mailing address once the giveaway is over. I will select the winner using random.org and contact you via e-mail. You will have 48 hours to claim the prize. If there is no response, another winner will be selected. Open to U.S. and Canada residents only. Also note that TheAngelForever is also running a Hot Potatoes! The BEST of The Wiggles giveaway on her website. You can increase your chances to win by entering there as well.
Disclosure: I received this DVD complimentary of The Wiggles PR agency in order to facilitate this review. They also sent a few other Wiggly surprises for our sons that included a T-shirt, CD and Henry the Octopus doll. No other compensation was given. The opinions expressed above are my own. The Wiggles are also providing the giveaway item to my readers.