Duncan Hines Apple Carmel Decadent Cake Mix and Vanilla Glaze Review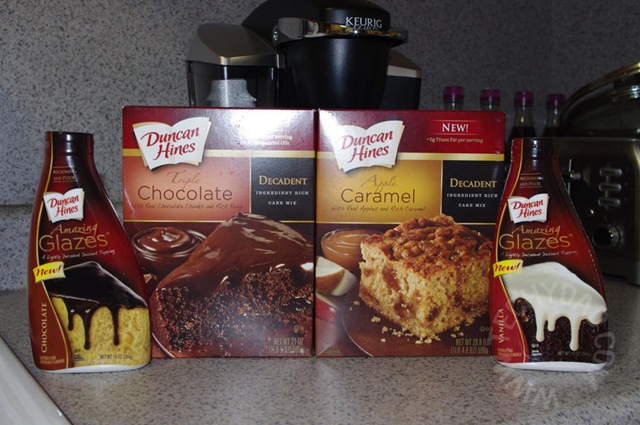 I love cooking and baking.  (Maybe you could tell from my Cooking With TechyDad posts.)  While I appreciate creating dishes from scratch, I'm not ashamed to turn to box mixes either.  So when I was given the opportunity to review Duncan Hines' new Decadent cake mixes and glazes, I jumped at the chance.
I received the Apple Carmel and Triple Chocolate cake mixes and the Vanilla and Chocolate glazes.  The chocolate (both glaze and mix) review will appear in a week or so.  For now, I'd like to focus on the Apple Carmel cake mix and Vanilla glaze.
First some information on the cake mixes and glazes:
Duncan Hines®, the well recognized brand that has been helping families create delicious memories for 60 years, introduces the latest breakthrough in deliciousness at the baking aisle – Decadent Cakes and Glazes. Only Duncan Hines now offers the most premium, indulgent cakes that one can find outside of a bakery. Duncan Hines new Decadent Cake Line with two new incredibly indulgent offerings – Duncan Hines Decadent Triple Chocolate Cake with real chocolate chunks and rich fudge and Duncan Hines Decadent Apple Caramel cake with real apples and rich caramel. With more people entertaining at home and looking for better quality desserts, these decadent cakes are perfect. Both cakes contain zero grams of trans fat and NO hydrogenated oils. They are available in cake baking section of supermarkets nationwide in 20 oz size boxes at a SRP of $2.99.

Simultaneously, Duncan Hines launches Decadent Glazes, a one of a kind glaze designed to elevate the baking experience with a whole new way to top your desserts. Available in Chocolate and Vanilla, Decadent Glazes help home chefs create spectacular desserts with professional results. Only Duncan Hines offers this versatile topping to complement your baked goods or any dessert with a touch of sweetness and flavor. What separates Decadent Glazes from frosting is they are not as heavy or sweet as frosting and are convenient to use. These glazes are available in a 10 ounce squeeze bottle at an SRP of $2.49.
Ok, now on to the cooking.  The mix includes two components.  The normal "cake mix" portion and the caramel mix-in portion.  These were really simple to prepare.  Mix in the required ingredients into separate bowls and you're good to go.
Notice the lumps in the cake batter.  No, I didn't neglect to stir enough.  Those are apple chunks.  We're not talking apple flavoring here, but actual apple chunks!
For a normal cake, the caramel would go in first followed by the apple cake mix, but I decided to make this as a bundt.  This meant mixing the batter first and then tossing it all into my bundt pan.
Baking took longer than the box said, but I attribute this to the bundt pan versus normal cake pan.  As with any mix, you should use the box listed times as guides but realize that many factors (e.g. oven temperatures) can change cooking times.  In any event, I was soon greeted with a finished apple-caramel cake.
I let the cake cool overnight and the next day it was glaze time.  I was impressed by how simple this was.  Simply remove the bottle's cap, microwave the bottle for a short while, replace the cap and pour your glaze.  Leftover glaze (and we had lots left over) can be refrigerated for later microwaving.
Looks delicious, doesn't it?
Here's a slice….
… Oh, rats.  I just realized we haven't perfected web-to-plate delivery technology.  Oh well, take my word for it, this was quite tasty.  The cake was extremely moist and the glaze was sweet but not overpoweringly so.  The cake didn't last long at all and now I'm itching to try the chocolate ones (as I'm a huge chocoholic).  This is definitely a product I'd recommend and one I'd eat again.
Disclaimer: This post was written for Family Review Network & Duncan Hines who provided the complimentary product for review in exchange for my honest opinions.