The Great Epcot Twitter Experiment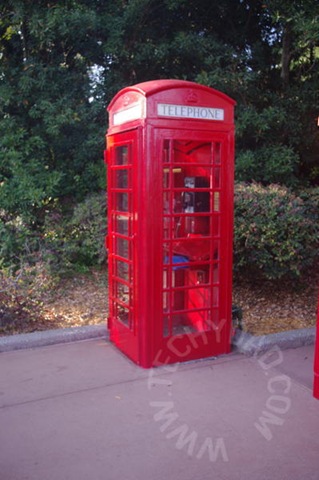 On Friday, March 18th, while B was in the DisneySMMoms conferences, NHL, JSL and I went to Epcot.  We sought out the characters and topiaries (more on those later), but at one point we happened upon the phone booths in the UK.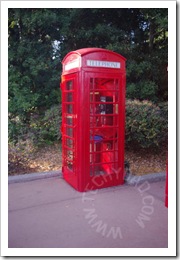 Seeing it, I remembered reading that all of these booths were actual working pay phones.  They even had numbers that people outside of Disney World could call.  I wondered: If I tweeted the number from one of these booths, how long would it take before someone called me?  What kind of conversation would I have with a Random Twitter Follower?
My kids were not too keen on this experiment.  They just didn't see the fun in it.  My seven year old actually said: "Dad, this trip is not about you.  It's all about us!"  That clinched it!  The experiment was on!
I walked up to one of the booths, looked for the number and tweeted:

Then, we waited.  We didn't have to wait long, however.  Soon the phone rang.  I picked it up and was asked if I was "TechyDad."  After I answered "yes", I had a nice (if short) conversation with @moth_editor and @cheimbuch!  (Short because the boys were getting restless and I wasn't going to make them wait too long.)  We waited a couple of minutes after the phone call ended to see if anyone else called, but nobody did so we left.  I couldn't help wondering how many times the phone rang that day leading Disney parks-goers wondering "Who is TechyDad and why is someone calling Epcot for him?"
Thanks to everyone who participated and those of you, like @BabiesGottaHavT, who tried calling and just got a busy signal.  By the way, if you want to try calling the Epcot UK phone booths to see what random people you get, here are the numbers:
Left Booth: 407.827.9862
Center Booth: 407.827.9863
Right Booth: 407.827.9861
That information comes from @adisneymom who had a similar idea (and coincidentally executed it the same day as my Twitter Experiment).
A few days later, when back in Epcot, I stopped to take some photos of my boys in the phone booths when the center phone rang.  I answered, but it turned out to be a wrong number.  At least I got some nice photos of my kids placing some calls (as NHL attempted to dial the phone without entering an area code… or putting in any money).