My Little Photographers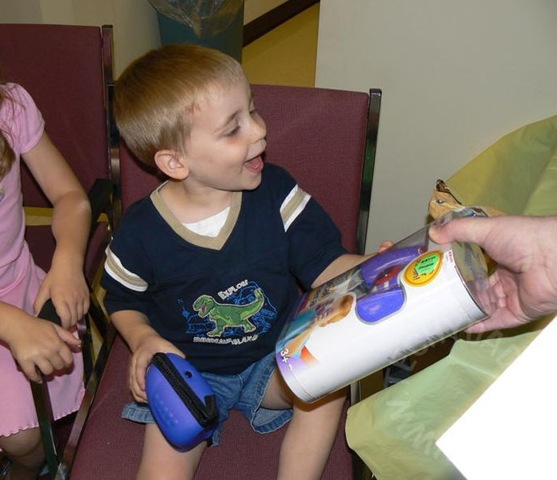 When NHL turned four years old, my parents bought him a camera for his birthday.  No, not a DSLR or even a cheap point and shoot  This was a Fisher Price Kid Tough digital camera.
The entire camera was designed with kids in mind.  There were two handgrips (for better grips), two eye pieces (since kids might not get "squint and look here"), and the whole thing was rugged enough to survive a drop down a flight of stairs.  NHL had a blast taking photos of everything in his sight.  (So much so that we quickly realized ground rules were needed like "No taking photos of Mommy and Daddy when they are on the potty!")
Eventually, his attention was diverted by other toys and the camera found its way to the Heap Of Rarely Played With Toys.  At some point, JSL took an interest in this camera, but there was a problem.  No matter how often I put a fresh set of batteries in, it would only work for a brief period of time before dying again.
During our Disney World trip, JSL began asking for a camera.  What began as an occasional request quickly ramped up.  In fact, as I waited in line at Epcot's photo center (to get some photos added to our Photo Pass card), JSL went berserk.  There, right in front of him, was a display of Disney-themed kids cameras.  He wanted one and he wanted one NOW!
Somehow, we held him off until his birthday.  That's when he got this:
That would be his new V-Tech Kidizoom Plus.  It is a 2MP camera, does video, adds special effects to photos and more.  If anything, it's a little too complex for JSL so we're trying to limit him to just photos.
He's now hooked on taking photos.  Here's a small selection of his work.
Don't feel bad for NHL, though.  He's inherited my old camera with the broken flash.  Well, perhaps not "inherited", but rather "will be allowed to use on a heavily supervised basis."
If the weather holds out this weekend, perhaps I'll be able to take the boys on a photo shoot.  I've got my eyes on a photography exercise that Chookooloonks posted about.  I'll take them outside, walk 100 paces and have them take 20 photos of things right around them.
If you could go on a photo shoot with your kids, where would you go?