Dinner Out at Outback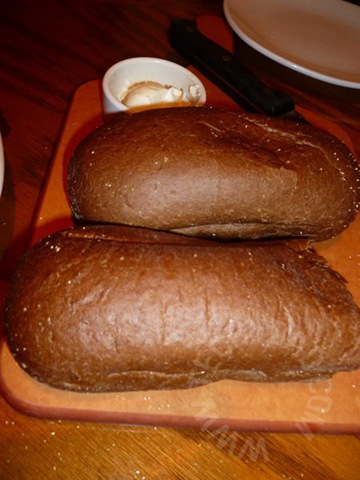 Three weeks ago, B and I got to experience that all-too-rare event known as "date night."  We ditched dropped the kids off at B's parents' house and went to Outback Steakhouse.
I had called ahead, but, due to circumstances beyond our control, we wound up arriving about an hour later than our reservation.  Even so, we were seated rather quickly.
After placing our order, we were presented with two big loaves of bread.  I knew we had a big meal ahead of us, but it still took all of my willpower not to devour this bread.  I took a little taste, but that made it worse.  It tasted so good!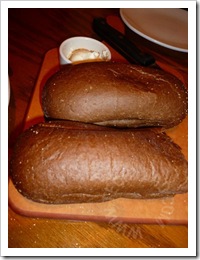 Before long, our appetizer, Spinach Artichoke Dip, arrived.  This tasted heavenly.  The dip itself was wonderful, but the addition of the garlic toast pieces was incredible.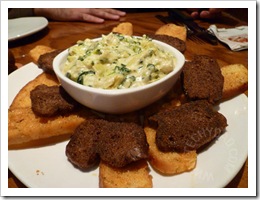 Next up was the main course.  B got steak with shrimp and a baked potato.  I had a mahi dish with rice and veggies.
I can't speak for B's dish, but mine was very tasty.  I wound up finishing all of mine up while B had some of her meat (and the rest of the bread) packed up to eat for lunch the next day.
When it came time for dessert, we were too stuffed to eat any more.  Still, we ordered the Sweet Adventure Sampler Trio.  This comes with samples of three different desserts.  And by samples, I mean what might be regular sized portions of each dessert anywhere else.  Since we were full, though, we ordered it to go.  I was quite amazed when our server showed us how they had packaged the desserts.  Each segment of the desserts was in a different container.  (I've got to apologize for the overexposure of some of these shots.  The white packaging made photographs hard to take.)
First up was the Chocolate Thunder from Down Under: A chocolate pecan brownie topped with vanilla ice cream, warm chocolate sauce, whipped cream, and chocolate shavings.
Once combined, they formed this delicious dessert:
After this was the carrot cake (with coconut and pecans) and the classic cheesecake.
Both of these were good, but the brownie was by far my favorite.  All in all, we had a great time at Outback Steakhouse.  While steak is not my thing, they have enough other options that I look forward to going back there again.
Disclaimer: B received a coupon for a free steak from an online promotion and I received an Outback Steakhouse gift certificate during a blog tour.