Saturday was my birthday.  I awoke a 38 year old thinking about how far I've come.  Ten years ago, I was a father to be.  Six years ago, I had just become a father for the second time a few months prior.  In that time, I've done my part to raise my boys to be just as geeky as I am.  Sure enough, the presents that B and the boys got me were definitely geeky.
That's a sonic screwdriver, mini-TARDIS, and a Dalek bookmark.  I wasted no time putting the batteries in my new sonic screwdriver and trying it out.  A few seconds after that, the kids were trying it out as I desperately tried to get it back.  JSL has now declared that HE wants a sonic screwdriver.  Though we probably won't buy him one (he's got enough toys right now), B might try knitting or crocheting one for him.  There are a lot of patterns online for sonic screwdrivers.
After the gifts, we ate a quick breakfast at home and went to the local mall.  I had heard the previous day that Menchie's frozen yogurt was offering Dole pineapple flavor.  Disney fans know this as Dole Whip: A frozen creation that no trip to Disney World or Disney Land is complete without.  In fact, the only place you can get Dole Whips were the two Disney parks and the Dole factory.  And now Menchie's.
We stopped by and – after eating lunch to give the lines for the grand opening time to die down a bit – looked inside.  It looked amazing, but there was no Dole Whip.  Luckily, the manager was there and mentioned that he did have the Dole pineapple mix in the back – it just wasn't one of their weekly flavors.  He also had no clue what a big deal Dole Whips were.  We gave him our card and he said he'd definitely update his Facebook page to let us know when the pineapple goodness is available.  (Check the Menchie's by you.  If they have Dole Pineapple… GET IT!!!!  You're welcome.)  We'll be headed back there another day.
After that, we headed to FunPlex Fun Park in East Greenbush.  Here, we mini-golfed 18 pirate themed holes.  The boys had a blast avoiding sharks and hitting their balls through wrecked ships.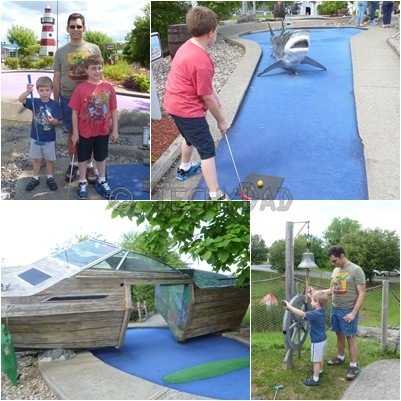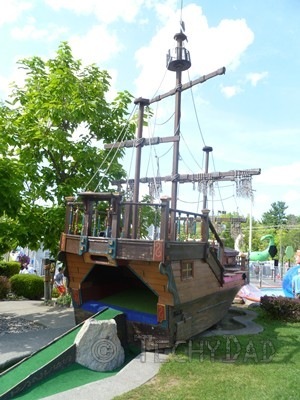 When we were done golfing, we picked up a cake for me, went out to dinner, and then went to B's parents house to have dessert.  I picked out a "7th Heaven" cake from Price Chopper.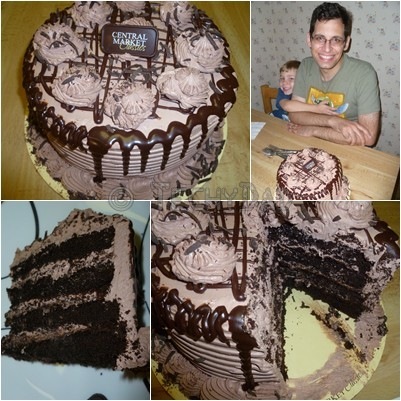 Price Chopper describes this as:
Four chocolate layers filled with whipped ganache and Hershey's icing. Melted ganache is drizzled over Hershey's whipped topping. Garnished with chocolate spaghetti and rosettes for a real slice of heaven.
And this WAS a slice of heaven.  By all rights, this much chocolate should be overly sugary and too much chocolate.  But it works.  Even non-chocoholic B loved it.  It was a little bit more than the basic cakes, but it was well worth it.
Oh, and my in-laws got me a wonderful Doctor Who shirt.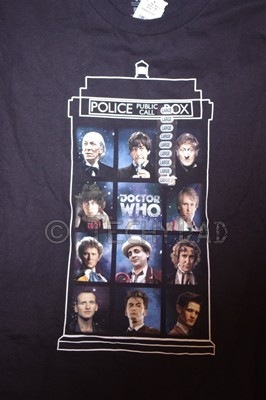 It was a wonderful way to start the day.  I can't wait to see what the next year brings.