The #DisneySMMoms Report: Swashbuckler Soiree
Note: To see all of my posts on DisneySMMoms 2012, go here.
After we left the introductory cocktail reception, I headed over the the beach near the Yacht Club.  (B and I had actually gotten separated during the Adventures By Disney.)  There, I found B, her parents, and the kids.
We were each given a bandana (which some of us fastened around our heads pirate-style) and drinks were offered with cool light-up "ice" cubes.
As we entered, we were serenaded by a pirate band and the centerpieces on our tables included a treasure chest.  (NOTE: We didn't try digging up the beach looking for buried treasure.  That'd be bad form.)  Even the food was being guarded by a pirate.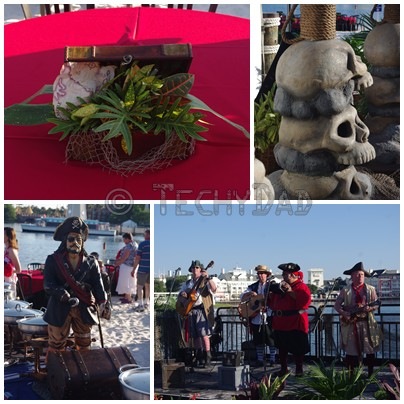 Luckily, the pirate food guard didn't mind us chowing down on some grub.  And what food there was!  A feast fit for a Captain (Hook)!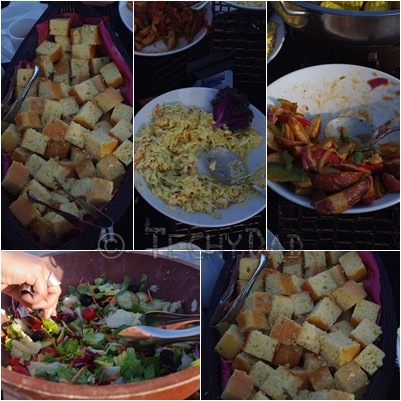 Many of the dishes had a decent kick to them.  Not burn your mouth spicy, mind you.  Disney wasn't trying to get us to soak our mouths' in the nearby waterway.  The food did have a spiciness about it that felt perfectly appropriate for a pirate party.  After all, what pirate would choose to eat bland food?
This wasn't even all of the food, mind you.  There was also a kids table with corn (a non-spicy version), hamburgers, hot dogs, fruit, and, of course, Mickey-roni and Cheese.
Of course, there were plenty of people to meet.  I had finally met Rene Syler (aka Good Enough Mother) in person at the cocktail reception, but we took the opportunity to have our photo taken.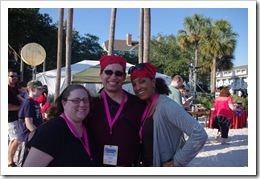 (Hmmm…. Is that dadarocks in the background checking his smartphone?  I believe so!)
See this calm looking spot over here?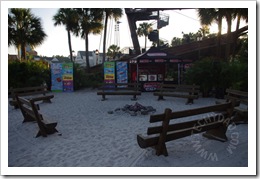 Well, it wasn't calm for long.  They called all the kids over and started playing some pirate games.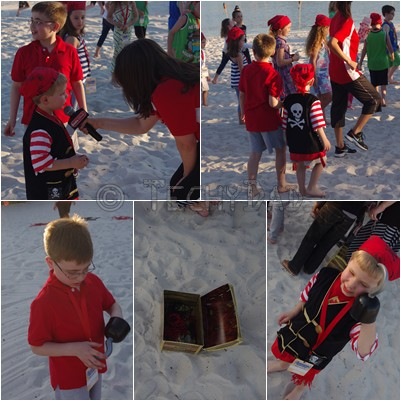 Yes, those are hooks on their hands.  Just like a certain Captain had.  Speaking of whom, he made an appearance with Smee and Jake.  Sharkey and Bones couldn't make it – I think they were busy cleaning the Jolly Roger – but a pair of singing pirates helped get the kids dancing.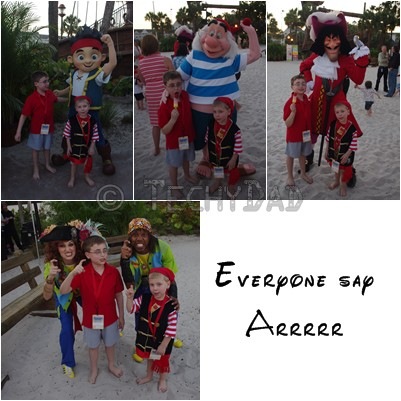 Finally, there were amazing desserts including a fantastic bananas foster and, of course, Mickey Ice Cream Bars.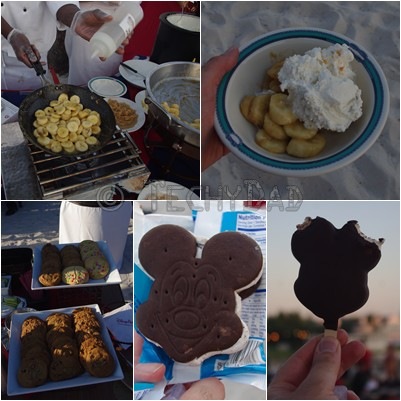 With the sun setting and the kids getting tired, we headed off of the sand for some much needed sleep.  It was a long, but very fun day at Disney World and our trip was just getting started.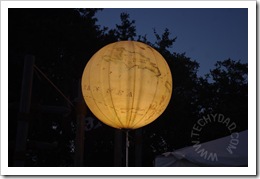 Disclaimer: We paid for our own trip to Disney World to attend the Disney Social Media Moms Celebration. Though we were given an incredible deal from Disney, they never asked us to blog about this event. All opinions expressed above are my own.