Happy Birthday To The Most Wonderful Wife and Mother Ever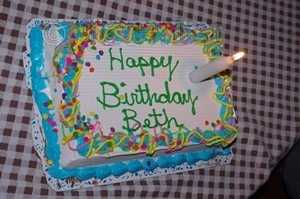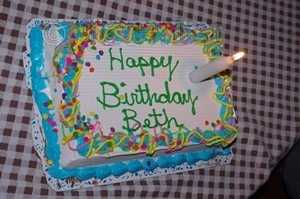 Today is the birthday of the most important person in my life.  She's beautiful, intelligent, caring, and doesn't back down when something threatens her family's well-being: especially if she thinks her kids aren't being treated right.  She gets between NHL and me when our Aspie sides collide.  She comforts JSL when he's feeling anxious about something (just before launching an attack against that something if need be).  Whereas I'm the one who makes a phone call if we need a calm, reasonable voice, she's the one to put on the phone if you want someone who will stand their ground, never give an inch, and fight tooth and nail.
On the other side, she's proud to show her geek side and will show her knowledge of Disney or proudly wear her Donna Noble shirt to show her love of Doctor Who.  She's my wonderful angel and I love her with all of my heart.  (Were I a Time Lord, I'd love her with both of my hearts.)
Happy birthday, Beth!