Paint Blobs On A Smartphone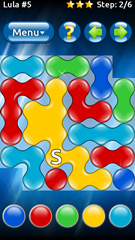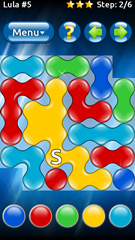 Last month, I wrote about a fun Smartphone game called Buttons and Scissors by KyWorks.  A couple of days ago, another of their games, Color Oil, was Amazon's free app of the day.  I downloaded it and have been hooked ever since.
Like Buttons and Scissors, you need to use your brain to match colors and beat levels.  Unlike Buttons and Scissors, though, you don't deal with buttons on denim, but with drops of oil paint on a canvas.  The paint only joins up with blobs of same colored paint.  Luckily, you can change the color of your main blob.  As you do so, it will join with any adjacent, similar colored paint.  As your blob grows, it can join with more and more paint until all of the paint is joined.
Sounds easy, right?  Well, there's a twist.  You only have a certain amount of turns to complete each level.  For example, you might have five different colors on the board and only six turns.  This gives you a mere one move before you need to start eliminating colors.  If you go over the allotted number of turns, you start losing stars.  Lose all three and you'll need to start all over again.
The levels begin easy but ramp up in complexity.  This game is not one that is won by quickly tapping the screen.  Instead, it forces you to think about your next move, the one after that, and the ones after that one.  Only by planning out your moves in advance will you have any hope of finishing the board in the required number of steps.
This is definitely another fun game from KYWorks.  It's sure to give both me and my boys hours of fun while also challenging our minds.
Links to Color Oil for Android, iOS, and Blackberry are available from KyWorks' website.
NOTE: I obtained Color Oil as Amazon's Free App Of The Day, I wasn't required to write about the app, though.  I did that because I liked it.  All opinions above are my own.