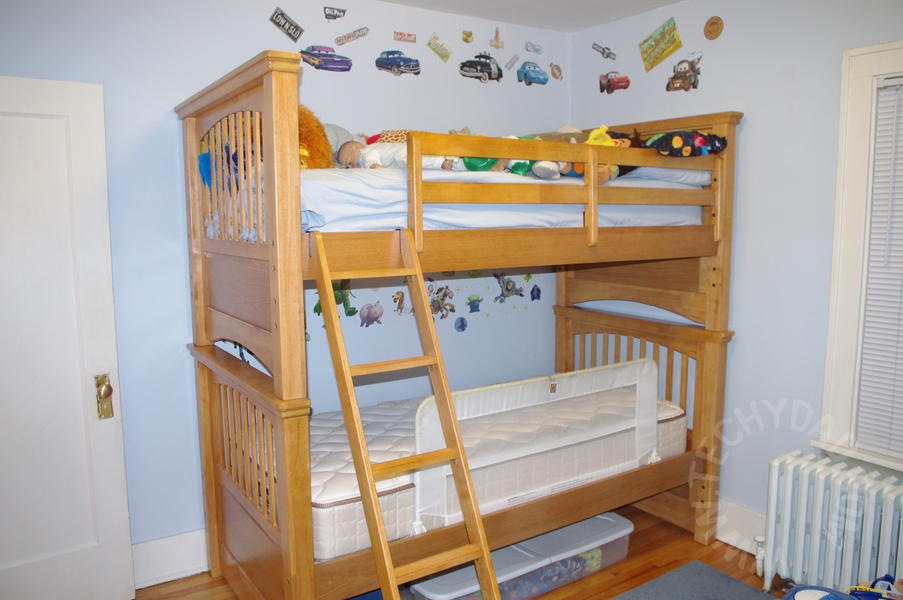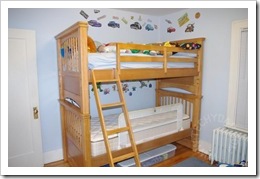 Saturday was the day.  After a few weeks of looking, we had bought bunk beds a couple of days ago.  Now, it was time for the boys to say good-bye to their existing beds: NHL, his twin bed, and JSL, his toddler bed.
After saying goodbye, we took their stuffed animals off and packed them away in large bags.  Since these are the same bags we use for garbage, we took care to let the boys know that the garbage bags were simply the best storage method and by no means meant the stuffed animals were being thrown away,  Then, their sheets, blankets and pillows were removed.
I took apart JSLs toddler bed first.  It's a converted crib and the only bed he's ever known (at home at least).  After that, I leaned NHL's mattress against the wall, put the box spring in a bag and stored it and the frame in the basement.  All this took me about two hours.  I was sure it would take much longer.
After cleaning the area up (dust bunnies love hard-to-reach areas), their room was ready.  Later that day, the Raymour and Flanigan truck arrived.  The kids could hardly contain themselves.
Two guys came and quickly set up the bunks.  Meanwhile, the kids were watching intently.  They loved seeing the bed get constructed.  The men putting the bed together were wonderful and didn't seem to mind the boys over-attention.  Nor did they say anything when JSL asked "Daddy, why does that man not have any hair" or when he responded to my request to explain later with "But daddy, he's got NO HAIR!!!"
Before we knew it, the beds were put together and the boys were all too eager to try them out.  That's not to say that there hasn't been adjustments needed.  NHL is a bit nervous sleeping on the top bunk.  JSL can't see his night light.  I think once these adjustments are over, though, I'm sure they'll love their new bunk beds.
My Aloha Friday question for today is: Have you ever had bunk beds?  Would you rather sleep on the top or bottom bunk?
P.S. If you haven't already, go visit FollowerHQ and let me know what you think of my Twitter application.
P.P.S. For a bit of fun, try my other Twitter Application, Rout. It's a +F in Fun!
---
Thanks to Kailani at An Island Life for starting this fun for Friday. Please be sure to head over to her blog to say hello and sign the linky there if you are participating.
Aloha #120