Duncan Hines Triple Chocolate Decadent Cake Mix and Chocolate Glaze Review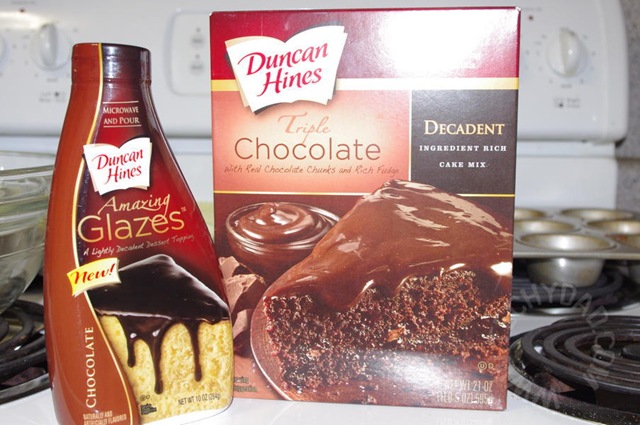 A couple of weeks ago, I wrote about the Duncan Hines Apple Carmel Cake Mix and Vanilla Glaze.  For the review, I was also given a box of Triple Chocolate Decadent Cake Mix and Chocolate Glaze.  I figured it was only fair to review this one as well.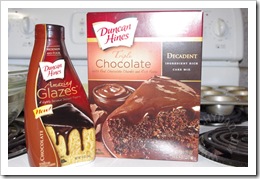 This time, instead of a bundt cake, I decided to make cupcakes.  As with the Apple Carmel mix, I was surprised by the filling.   It wasn't just powdered chocolate.  It had chocolate chips and chunks inside as well!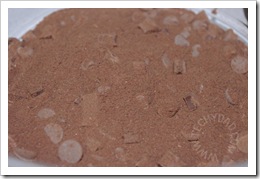 During my cooking, I acquired a little helper.  Here's JSL stirring the filling.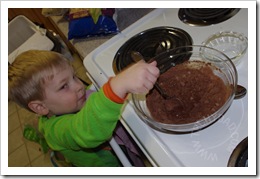 When it was all mixed, it took a lot of willpower to not scarf down the filling right then and there.  Maybe they should include 2 packets of filling in each box.  One to put in the cake and one to eat immediately!
Next, we mixed up the cake batter itself.
The cake mix went into the cupcake wrappers and then the filling gets placed on top.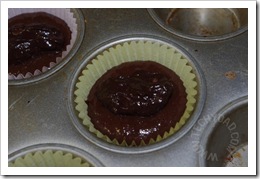 Here's the worst part… The waiting.
Soon enough, though, the cupcakes were done.  Notice how the cupcake rises around the filling, leaving most of it inside the cupcake.
Next, for the frosting.  Like the vanilla frosting before, this was simple.  Remove the bottle's cap, microwave the bottle for 30 seconds, put the cap back on, and frost.
I'll admit, my frosting method was haphazard, but I still think these look like some nice cupcakes.
Want to take a peak inside?  Here it is in all its ooey gooey chocolatey glory.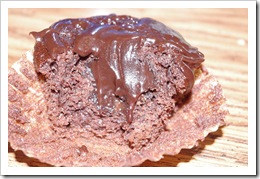 Of course, cupcakes can look like the most delicious things in the world, but if the taste doesn't back it up, the appearance is worth nothing.  The taste most certainly backs up the appearance.  B wasn't a fan of the filling, but then again she's not a chocolate fanatic like my boys and I am.  They devoured the cupcakes they were given and NHL asked for more.
You might wonder why there's no photo of NHL eating his cupcake.  That would be because in the time it took me to put down JSL's cupcake, seat JSL, and grab a cupcake for myself, NHL had finished his cupcake.  I'd say that's a thumbs up from NHL.  Now, if you'll excuse me, the remaining cupcakes are calling me and I must try to resist their siren's call.
Disclaimer: This post was written for Family Review Network & Duncan Hines who provided the complimentary product for review in exchange for my honest opinions.