Aloha Friday: Grill Fail to Grill Win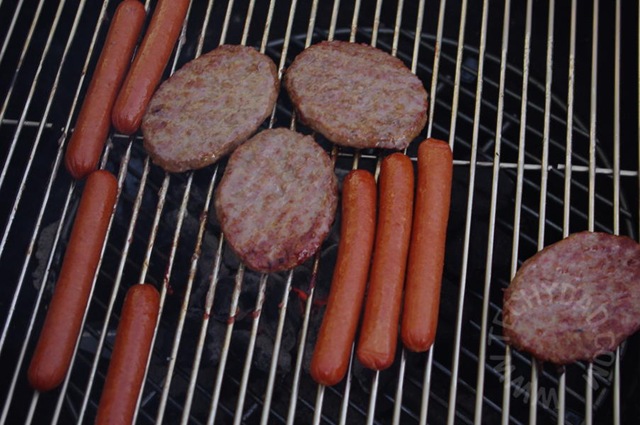 A couple of days ago, I posted about my Grill Fail.  Well, yesterday we tried again.  This time I had some new tools and was all set.  I put the coals in and lit them.  For awhile, things weren't looking so hot.  Literally.  The coals seemed to refuse to stay lit.
Just as we were deciding to give up, I gave it one more try and success!
Before long, we had hamburgers and hot dogs for dinner.  We only had hot dog buns, so we split the burgers in half and put them on the hot dog rolls.
NHL, B and I each ate two hot dogs and one hamburger.  JSL ate one… hot dog bun.  (He's extremely picky and barely tasted the hot dogs or burgers.)
With this initial success under my belt, I want to do two things.  First of all, I want to buy a chimney starter.  This should make starting the coals a lot easier.  Secondly, I want to try some other things on the grill.  Turkey burgers and chicken breasts are a sure thing.
Another possibility is salami.  My father used to slice salami, grill it and then serve it atop rye bread.  Delicious!
My Aloha Friday question for today is: Do you have/use a grill?  What do you grill on it? 
Don't forget to enter my Dinosaur Train giveaway.  You could win Dino Poop and Hatchers.
---
Thanks to Kailani at An Island Life for starting this fun for Friday. Please be sure to head over to her blog to say hello and sign the McLinky there if you are participating.
Aloha #89