Aloha Friday: Smoothie Time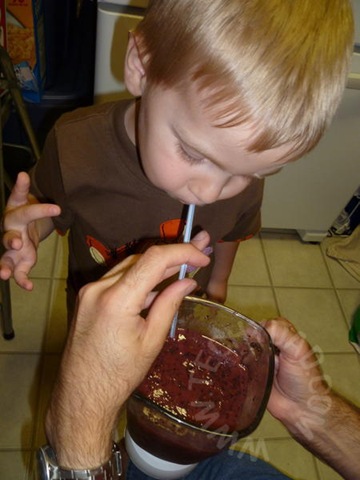 Lately, NHL has been begging me to make him smoothies.  While grocery shopping, he'll spot the orange juice and beg me to buy some to add to smoothies.  JSL loves drinking them.  They also happen to be very nutritious, so who am I to object?
For dessert after one of my grilling adventures, I had purchased a small watermelon.  As it happened, I decided against slicing it.  It sat on the counter for awhile until I sliced it up.  At that point, I figured that it wouldn't a long (refrigerator) shelf life so I searched for some watermelon smoothie recipes.  I found this Watermelon Blueberry Smoothie recipe.
Today, after dinner, I decided to whip up some smoothies. 
Doubling the recipe, assisted by JSL and so excited that I forgot to take photos of the process (yes, really!), I put in the watermelon, honey, lemon juice and frozen blueberries into the blender.  After pureeing, I fought off JSL who couldn't wait for smoothies.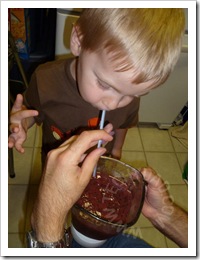 We split the entire double-recipe batch among the four of us and drank up.  The verdict was unanimous: Delicious!  NHL and JSL both asked for seconds (thirds in NHL's case) and drank until nothing was left.  This is definitely something we'll be making again.
My Aloha Friday question for today is: Do you make smoothies?  If so, what's your favorite smoothie to make?
Don't forget to enter my Kung Fu Panda/General Mills gift pack giveaway or B's Dove Men + Care giveaway.
---
Thanks to Kailani at An Island Life for starting this fun for Friday. Please be sure to head over to her blog to say hello and sign the McLinky there if you are participating.
Aloha #91