Your Shape Fitness Evolved: Week 4 Diary and Giveaway
This week, I tried out Your Shape Fitness Evolved's Humana Health series: Strengthen Your Heart, Active Kids, and Aging With Grace.  Each of these is targeted to a particular demographic/purpose.
Strengthen Your Heart had me moving with squat punches, knee-up punches, tap backs, jumping jack punches, kick crosses, jab knee-ups, dumbbell squats, goblet squats, and triceps skating.  All of these workouts burned 49 calories.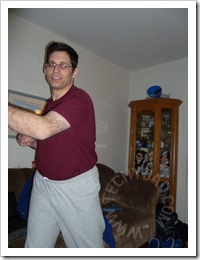 Next up, I tried Active Kids which is targeted more towards the younger set.  Though I did these by myself, I could picture my son doing the squat kick combos, knee-up punches, shuffle cross punches, front kick punches, squat punches, jab knee-ups, combo arms switches, jumping jack punches, and kick crosses with me.  This workout wound up burning 56 calories.
If Active Kids is aimed at younger folks, Aging With Grace is geared towards an older crowd.  This workout wasn't strenuous but still managed to burn 49 calories using step touches, knee fronts, tap backs, Z-Steps, Open-Close, squat punches, dumbbell squats, scaptions, and braced squats.
Giveaway
You could win a copy of Your Shape Fitness Evolved. Simply post a comment to this blog post. You can enter multiple times by leaving one comment in each of the posts of this series: Week 1, Week 2, and Week 3. When my five week series is finished, one commenter from across the five posts will win a copy of the game from Ubisoft.
Disclaimer: I was given a copy of Your Shape Fitness Evolved by Ubisoft and financially compensated for this Clever Girls Collective, Inc. campaign. In addition, I was loaned an XBox 360 and Kinect for the duration of the campaign. The opinions expressed above, however, are my own.