While at BlogHer 2010, there was a small list of people that I wanted to meet. It wasn't really formal, written out, or set in stone, but more of a general mental list. Three names were prominent on it, though: Dadarocks (aka Adam Cohen), KissMyKitty (aka Jenn) and AnissaMayhew (aka… well, I guess she's self-explanatory).
I've worked with Adam in the creation and running of DadRevolution, but had never met him in person. I was able to remedy this at the Ralph Lauren party and again at Sparklecorn.
I've worked with Jenn during my Eden Fantasys review. I got to meet her just before the "Bringing Sex Out Of The Closet" session. Prior to this, we almost met a few times but always just missed each other. It was quite the meeting as we discussed "presents" I should buy my wife. I later saw her at the Eden Fantasys "decorating" party and at Sparklecorn.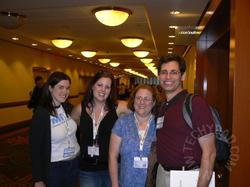 I've followed Anissa's husband, and later her, from her stroke through to the present day. I even got to see her three times during BlogHer. Each time, I saw her though, my mind went blank. I couldn't, for the life of me, figure out what I was going to say. To keep from completely embarassing myself, I just walked by. Note: This wasn't due to anything Anissa did or said. A lot of other people went up and talked to her and I never saw her being anything but gracious. I just had a mental freezeup and didn't know what to say.
Luckily, I met a lot of the people on my mental list and a lot of people who I hadn't planned to meet pre-BlogHer. I'm now following a lot more people on Twitter, made some great connections, and have a stack of business cards to go through. (I will go through those! I promise!)
My Aloha Friday question for today is: Have you ever been at a loss for words when you saw someone you really wanted to meet and talk to in person? How did you handle this?
---
Thanks to Kailani at An Island Life for starting this fun for Friday. Please be sure to head over to her blog to say hello and sign the MckLinky there if you are participating.
Aloha #51