A Look Back at 2013
The end of the year is typically a time to look back on the past 365 days (366 during a leap year) and review what has happened.  What big events have occurred?  What memories have been made?  What new friends have you met?  How is your life different today than it was on January first?
For my blog, this retrospective usually takes the form of looking through a year's worth of photos, culling them down into a few hundred, and then somehow trying to shoehorn as many of them as possible into a post.  I think I'm going to take a different route this year.  A more analytics and social media driven route.
I started off with a tool by Vizify which lets you generate a quick Year In Review:
Starting my 2013 retrospective with a #Vizify #2013 Twitter movie: https://t.co/QueM8TREZY

— TechyDad (@TechyDad) December 30, 2013
With that done, I wondered if I could improve on it.  Especially in the photos area.  Since many of my photos weren't posted to my blog, but to Instagram, I decided to make a video of my top Instagram photos of 2013.
Using instaport.me, I downloaded all of my Instagram photos from January 1, 2013 to December 29, 2013.  I went through these and picked out a bunch that stood out to me and then put them into a video.  (The background music is "New Year's Eve (Instrumental)" by Silence Is Sexy and is available from FreeMusicArchive.org.)
Now, on to the Analytics.  I fired up Google Analytics and asked it to look from January 1, 2013 to the present.  Then, I picked a few analytics from the huge number available.
First, let's look at general audience analytics.
How did mobile devices do in 2013 versus desktops and tablets?
Clearly, 2013 was the year that mobile took off on TechyDad.com.  I went from virtually no mobile users to nearly 20% of my users on mobile.  Tablet use increased as well.  Desktop use, meanwhile, dropped down drastically.  It should be noted that I'm talking about percentages.  In raw numbers, all segments made increases.  Desktop alone rose by over 30% from its previous year's total.  Mobile and Tablet increased much more than Desktop did, however, so Desktop's percentage wound up decreasing.
So mobile and tablet grew fast, but what mobile/tablet operating systems were people using on TechyDad.com in 2013?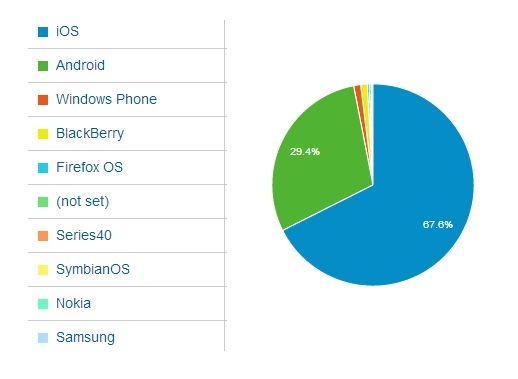 Clearly, iOS maintains a significant lead, but Android is holding a sizeable chunk as well.
As far as browser usage went, Chrome was king in 2013 with Safari close on its heals.  Firefox took third place and IE came in fourth.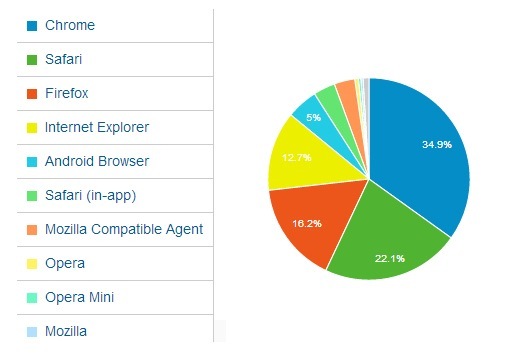 All this is nice, but I still believe in the old saying "Content Is King" so what was the most popular content on TechyDad in 2013?  Well, we can look at that two ways.  We can only count posts made in 2013 or we can count all posts.
Top 10 Most Popular 2013 Posts:
And now including all posts.  (Obviously, I won't add comments to the posts that appears in the previous list.)
The Most Popular Posts in 2013 (Counting All Posts):
What were my favorite posts of 2013?  From a quick look over my archives list, I'd have to say some of my Asperger's posts like Asperger's Syndrome Resources, The Challenges of Asperger's Parenting, Obsessions and Asperger's Syndrome, The Upside of Asperger's, An Open Letter About Asperger's Syndrome, and How I Did NOT Give My Son Autism (And How I Did).  I'd also include Rotten To The Common Core – my first post on Common Core, Doctor Who Geeklings Are Born – my first posting of my kids becoming Whovians, and Doctor Who? Doctor TechyDad! – where I revealed the Doctor Who costume that I made.  Finally, I'd include a pairing of posts where I discussed the self doubt that I face nearly every day, how Wil Wheaton's book – Just A Geek – helped me realize this, and how I've been trying to turn that voice on its head: The Voice Of Self Doubt and Self-Doubt and Self-Achievement.
It's been a very exciting year and I can't wait to see what 2014 has in store.